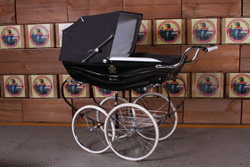 If the Carlyle's furniture and decor could speak, what a story they'd have to tell! This is an excellent opportunity for folks to own a piece of this influential institution.
Bridgeport, CT (PRWEB) May 28, 2015
From luxurious guest suites to the famed Bemelman's Bar, New York City's glamorous Carlyle Hotel has hosted countless celebrities, dignitaries, heads of states, and politicians since the 1930s. Black Rock Galleries (BRG) is pleased to offer the hotel's furniture, lamps, silver, and decorative items in a three day in-house and online sales event taking place June 2-4, 2015. BRG will begin the sale for in-house buyers at BRG located at 1720 Fairfield Avenue in Bridgeport, Connecticut on Tuesday, June 2 at 10 a.m. through 7 p.m. as well as from 10 a.m. through 5 p.m. on Wednesday and Thursday. The online sale will begin Tuesday evening at 8 p.m. exclusively through http://www.blackrockgalleries.com and will run continuously until the close of the sale on Thursday at 5 p.m.
The Carlyle Hotel Furniture & Decoration Sale boasts an extensive collection (hundreds upon hundreds) of furniture, lamps, mirrors, decoration, & silver -- most items in multiple quantities -- including faux bamboo ballroom chairs, club chairs, bergeres, fauteuils, upholstered and tufted headboards, coffee tables, end tables, occasional tables, stone top tables, chest of drawers, writing desks, footstools, many styles of table lamps, glass rod floor lamps, cream-painted barley twist floor lamps, gilt mirrors, and even the barstools from the famed Bemelman's Bar. Also included in this sale is the Carlyle's amazing hotel silver collection including dozens of warming trays, chaffing dishes, cutlery, champagne/wine coolers on stands, coffee servers/urns, creamers, serving trays, and so much more. Everything is of hotel-quality-standard.
In addition to the extensive room furnishings and decorative items, BRG is offering the Carlyle's many unusual "one-offs" (unique pieces) including an outstanding carved gilt wood eagle console, as well as a Silver Cross baby pram with the Carlyle coat of arms insignia on both sides.
"The Carlyle's legendary reputation for elegance and superior discretion for their guests has always been a draw for celebs as well as national and international dignitaries," explains Christie Spooner, one of BRG's managing partners. "If the Carlyle's furniture and decor could speak, what a story they'd have to tell! This is an excellent opportunity for folks to own a piece of this influential institution."
In fact, over the decades the Carlyle Hotel has boasted notable guests such as Mariah Carey, Paul McCartney, Billy Joel, Woody Allen, the Kennedy family, Princess Diana, Sinatra, George Clooney, Harry Truman, Michael Kors, and more recently Prince William and Duchess Kate during their trip to NYC. As a result, there is a good chance that buyers might obtain something a notable person used.
"One of the really nice pieces in this collection is the Carlyle's Silver Cross baby pram. Not only is it a great piece, it's just fun to imagine which celebrity babies may have strolled down Fifth Avenue in that pram -- which adds to the allure of this collection," explains Grant Panarese, BRG's other managing director. "While it is difficult to say which celebrity may have used any given piece in the sale, buyers may feel free to spin their own tales -- that's the fun of this particular type of sale."
About Black Rock Galleries
Black Rock Galleries' founders, Grant Panarese and Christie Spooner, set out on their own, after almost 20 years in the antiques, auction and consignment arena, to create a one-stop enterprise based upon knowledge, honesty, integrity and the belief that fine antiques and home decor shouldn't be cost prohibitive. What began in 2010 as Bridgeport Salvage Company in the Mill Hill section of Bridgeport quickly grew into a unique business offering a consignment shop, full auction and estate sale services and expert appraisals. By 2012, growth pushed them to a new facility with over 50,000 square feet of showroom space and its new name, Black Rock Galleries. With BRG's new online auction and shopping platform, the business continues to grow exponentially under the guidance of its founders and the support of their clients. BRG is located at 1720 Fairfield Avenue, with easy access from I-95 (exit 25) and is open Tuesday through Saturday from 10 a.m. until 5 p.m. Featuring a fresh and changing inventory of quality furnishings, antiques, fine art and more, BRG offers something for every taste, budget and style. Visit blackrockgalleries.com or call (203) 335-0000.