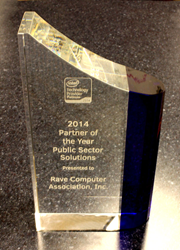 For Rave this is an amazing award, we are excited and honored to be recognized at this level for our accomplishments.
Sterling Heights, MI (PRWEB) June 02, 2015
Rave Computer was recognized as a winner of the Partner of the Year – Public Sector Solutions Award at the 2015 Intel® Solutions Summit (ISS) North America. The award ceremony took place on May 5, 2015 at the Hyatt Regency, Dallas.
Intel Solutions Summit is one of the most prestigious channel events in North America. This invitation-only conference enables top-tier Intel Technology Providers to connect with other Intel channel partners, Intel executives and receive updates on the latest technologies, market trends and Intel product innovations. Each year, Intel honors its Platinum partners for excellence in various categories.
Rave won the award for its work in the public/government sector for a uniquely designed 2U server utilized in the simulation and training industry.
Rick Darter, President/CEO of Rave Computer, commented: "In the Intel Computer world, this is the highest award for that category in North America. I take great pride in our Rave team for our awards in three different categories, which is unprecedented. For example, Rave designed a rack mount computer with unique characteristics including performance, size and weight that is used by the defense department, homeland security, FBI and others for training; it's referred to as an "image generator." I like to say, we build the world's best gaming systems — instead of selling to gamers, we sell to the front line responders. For Rave, this is an amazing award. We are excited and honored to be recognized at this level for our accomplishments. Our team stays in close touch with our clients and prospects to create and deliver solutions specific to their needs."
Examples of additional uses for this product include applications related to modeling, simulation and visualization and the film industry.
In previous years, Rave has been honored for their work in the non-profit sector ("Channel Cares" for the RAVE CAVE a 3/D immersive environment) and for their design of the "most innovative workstation/server in North America", a different variation of a 2U short depth "image generator".
"Intel is proud to honor our outstanding partners within the compute industry," said Todd Garrigues, Director of North America Partner Marketing. "We feel privileged to showcase partners who demonstrate and deliver innovative customer solutions based on Intel technologies."
For more information on the 2015 winning 2U server, goto: http://www.rave.com/product/rr-2785-short-depth-quiet-2u-graphics-server/
For more information on the 2012 winning 2U server, goto: Rave 2012 2U Server
For more information on the Rave Cave, goto:http://www.ravecave.org
About Rave Computer: Founded in 1988, Rave Computer is a privately held company based in Sterling Heights, Michigan, specializing in state-of-the-art hardware solutions that support modeling, simulation and training platforms, along with command, control, communications and intelligence systems. Rave offers custom configured solutions to OEM's, the Department of Defense, ISV's and commercial customers that require integration services or supply chain management support. Learn more about Rave Computer and the Rave Advantage by calling 800-966-7283 or visit http://www.rave.com.