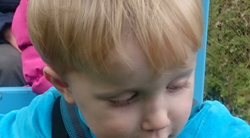 We have requested an immediate halt to sales until the issue is investigated. It should not require the death of an infant for this to be taken seriously
UK (PRWEB UK) 28 May 2015
The first incident, which has been reported in the Mirror today (May 28th 2015 http://www.mirror.co.uk/news/uk-news/car-seat-removed-sale-after-5773891) and brought to the attention of Good Egg Safety last weekend, occurred in April this year when a 22 month old boy was forcibly thrown out of his seat when his aunt had to make an emergency stop, and he sustained serious bruising to his head. Since this was reported by his family on social media, a further three families have reported similar incidents to Good Egg Safety where two more children have also sustained injury.
Concerned Mum, Stacey Tennant, who reported the original incident said; " when we alerted parents about our concerns, I felt sick to hear that other similar incidents had occurred and been swept under the carpet. If my son had been seriously injured or killed and the manufacturer and retailer concerned knew beforehand that there was a problem and could have prevented it, I would have held them directly responsible. Now my hope is that no other parent has to find out the hard way and we are grateful to Good Egg for bringing this to their attention. My Facebook video has had over a million views so far which is really encouraging"
Good Egg Safety Chief, Jan James said today; we are deeply concerned about this and contacted the distributer concerned and also all the retailers who were selling this product. We requested an immediate halt to sales until the issue is further investigated. It should not require the death of an infant for this to be taken seriously and financial considerations should be superseded by the health and safety of child passengers who may currently be at risk. We have since been advised by Kiddu that they have since taken the decision to temporarily withdraw the Kiddu Lane car seat from sale until they've had an opportunity to conduct further tests, which we welcome. It is the right decision and we urge any parent who is currently using this seat to get it professionally checked before further use.
Good Egg is issuing regular updates on its campaign facebook page @goodeggsafety to keep concerned parents and grandparents up-to-date with developments. Any concerned parents can also contact the organisation directly by emailing [email protected]
ENDS
Notes to Editors
For further media information, please contact Jan James on 07980 851360 ([email protected]) or Kat Furlong on 07585 004 842 ([email protected])
The seat in question is a Kiddu Lane 123. It has to pass stringent R44.04 testing before being allowed for sale. As part of R44.04 testing, every 5000th child car seat is required to be tested to ensure quality control is maintained.
The statement from Kiddu follows:
Product safety is our top priority and we are taking this matter very seriously. We have already conducted our own tests on our car seat buckles, which have indicated no fault to date. However, we have also requested that independent tests are carried out by the premier UK test authority as a matter of urgency. In the meantime, we have made the decision to temporarily withdraw the Kiddu Lane car seat from sale until the tests are complete.
We would like to reassure families with a Kiddu Lane car seat that the seat has been subjected to rigorous testing and has been approved to the current European Child Safety Standard ECE R 44/04 and by the Vehicle Certification Authority (VCA) in the UK. However, should anyone feel concerned they can call our dedicated helpline on 0161-702-5061."
Good Egg Safety, http://www.goodeggsafety.com, campaigns to help keep families safer. Good Egg provides information on safe driving for new and older motorists, family cycling, in-car child safety, and in-home child safety.
Good Egg Safety has further case studies relating to this story and these parents are willing to share their story and video footage to help avoid any further incidents in the future.