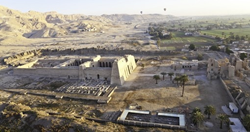 This deluxe Egypt vacation includes four nights in Cairo, with visits to the Pyramids and Sphinx, as well as the Egyptian Museum, which contains not just
Glendale, CA (PRWEB) June 02, 2015
As tourism slowly returns to Egypt, Goway Travel's Africa and Middle East team is pleased to welcome John Ghaly, an Egyptologist with over ten years of experience as an Egypt tour leader, guide, and organiser.
A Cairo native, John began his career working with Sonesta Hotels in the beautiful Egyptian coastal city of Sharm El Sheikh. Not content with a career bound to hotels, he returned to Cairo to begin a career as a tour leader at Gazira Travel, one of Egypt's most awarded travel agencies. Since then, he has gone on to a successful freelance career, running guided tours throughout the country. John and his wife settled in Canada in 2012, and he is thrilled to bring his expertise to one of North America's most trusted names in overseas travel.
Formerly one of Goway's most popular Africa and the Middle East destinations, Egypt's tourist-friendly image has taken a battering in recent years, due to political unrest. Those who have made the journey however, have been able to do so in safety, enjoying the sights, living history, and culture of this unique country without the usual crowds.
It remains to be seen how long this situation will last, but those willing to book their Egypt trip before July 31, 2015 can enjoy savings of up to $950 per person on one of Goway's most popular Egypt tour packages, the 10-day Classic Egypt.
This deluxe Egypt vacation includes four nights in Cairo, with visits to the Pyramids and Sphinx, as well as the Egyptian Museum, which contains not just the world's finest collection of Egyptian antiquities, but a vast Pharaonic and Graeco Roman collection as well. The itinerary also includes four nights cruising down the Nile, taking in sights such as the Luxor and Karnak Temples, the Valley of the Kings, and the Temple of Horus and Edfu.
Prices for Classic Egypt start at just $US1999 ex New York, or $CA2299 ex Toronto. Departures are available until late September 2015.
Since 1970, Goway has been providing unforgettable travel experiences to Africa, Asia, Australia and New Zealand, polar and idyllic island destinations, Europe and South America. Today Goway is recognized as one of North America's leading travel companies for individuals, families and groups to select exotic destinations around the globe. Goway has offices in Los Angeles, Vancouver, Toronto, and Sydney (Australia).
For reservations and information, visit http://www.goway.com, or call 1-800-387-8850.