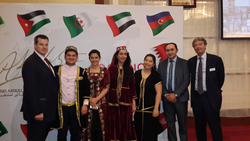 I would hope that by acquiring some of the skills and techniques of lobbying, and applying them to stakeholder engagement, you will become the community leaders and, perhaps, political leaders of the future.
Amman, Jordan (PRWEB UK) 30 May 2015
Lionel Zetter – Director of The European Azerbaijan Society (TEAS) and author of Lobbying – the Art of Political Persuasion – has addressed the annual Mosaic International Leadership Summit in Amman, Jordan. Prince Charles and King Abdullah of Jordan supported the event. Mosaic is a charity established by Prince Charles to foster leadership skills amongst young people from the Muslim world. Nearly 80 delegates from a score of Muslim-majority countries attended, including those from Azerbaijan and Turkey, both of which were sponsored by TEAS. They were selected from almost 2000 applicants.
After outlining the activities of TEAS, Mr Zetter's speech concentrated on the positive role that lobbying and stakeholder engagement may play in developing civil society in both developed and developing nation states, and the impact of social media on the industry. He encouraged the delegates, stating: "You are enrolled on this programme because you are amongst the brightest and the best in your countries. That places a burden on you to engage with civil society and, in time, to seek to take a leadership role within it.
"I would hope that by acquiring some of the skills and techniques of lobbying, and applying them to stakeholder engagement, you will become the community leaders and, perhaps, political leaders of the future."
He concluded: "I would also like to urge all of the delegates to respect their elders and their governments, whilst simultaneously working towards shaping a society where everybody feels that they have a constructive contribution to make."