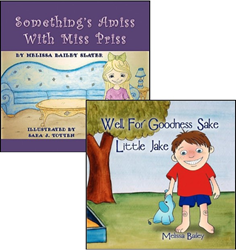 "These two books belong in every child's library and will provide hours of fun reading." - Robert Fletcher, CEO of Strategic Book Publishing and Rights Agency
(PRWEB) May 28, 2015
Grab the kids and come out for a chance to meet local author Melissa Baily Slater and illustrator Sara J. Totten. They will be signing copies of "Something's Amiss With Miss Priss" and "Well, For Goodness Sake Little Jake."
The event will take place at 1 p.m. May 30 at the Barnes & Noble at Columbia Center Mall, 1321 N. Columbia Center Blvd., Kennewick. The store can be reached at 509-736-3116. For more information, visit http://store-locator.barnesandnoble.com/event/4851462.
"Something's Amiss With Miss Priss!" Can you guess what it is? The author's daughter Caroline was the inspiration for the book. Miss Priss is a sweet little girl who is just starting school. She is full of energy, but has a habit of talking too much.
This charming children's story follows the little girl through the process of learning when and how to communicate with others. Her loving parents and her determined teacher both help Miss Priss see the light and follow the correct social graces. See how Miss Priss matures during the course of her first year in school. And now there's no longer anything Amiss With Miss Priss.
Something's Amiss With Miss Priss (ISBN: 978-1-61204-382-1) is available for $18.95.
In the charmingly illustrated tale Well, For Goodness Sake Little Jake, Jake is a happy, active little boy about three years old. His smiling bright blue eyes reflect the constant twinkle of the mischief going on in his mind.
Sometimes Jake bites off a bit more than he can chew, but luckily, his mother is always there with wise words and love, no matter what trouble Jake manages to find.
This fun story will speak to parents everywhere (and to their own little troublemakers).
Well, For Goodness Sake Little Jake (ISBN: 978-1-60693-675-7) is available for $11.50.
About the Author: Melissa Bailey Slater grew up in South Carolina and Georgia, and now resides in Pasco, Washington. Her illustrator is Sara J. Totten.
Author's website: http://www.MelissaBaileyBooks.com
"These two books belong in every child's library and will provide hours of fun reading. We are proud to be the publisher," said Robert Fletcher, CEO of Strategic Book Publishing and Rights Agency.
Both books can also be ordered through the publisher's website:
http://sbpra.com/MelissaBaileySlater or at Amazon.com or Barnesandnoble.com.
Wholesalers: These books are distributed by Ingram Books and other wholesale distributors. Contact your representative with the ISBN for purchase. Wholesale purchase for retailers, universities, libraries, and other organizations is also available through the publisher; please email bookorder(at)sbpra(dot)net.