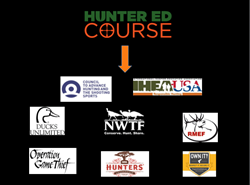 Troy, Michigan (PRWEB) May 29, 2015
HunterEdCourse.com is announcing a new objective with the course to support hunting, safety and conservation organizations by giving 10% of gross profits back to like-minded non-profits.
Throughout the year, Hunter Ed Course will be making contributions of 10% of gross profits to organizations to ensure the traditions and heritage of hunting are here for future generations.
Hunter Ed Course is a leader in giving back to the sport that supports Hunter Ed Course. Giving back to the sport supports the overall mission of Hunter Ed Course to Recruit and Educate hunters by providing an affordable, high quality online hunter safety course.
Hunter Ed Course is the only online hunter safety course with the stated objective of supporting those whose mission parallels the Hunter Ed Course mission.
Hunter Ed Course has been able to give back to the sport with contributions and support of hunter education, recruitment and ethical hunting, conservation and firearm safety. Organizations receiving support from Hunter Ed Course include:

Ducks Unlimited (DU)
National Wild Turkey Federation (NWTF)
Rocky Mountain Elk Foundation (RMEF)
Council to Advance Hunting and The Shooting Sports
NRA Hunters' Leadership Forum
International Hunters Education Association (IHEA-USA)
Operation Game Thief
Project ChildSafe
HunterEdCourse.com is the affordable online hunter education option priced at only $13. The course features the Easy Learning System™ so a student learns the state-required firearms safety and hunting ethics learning necessary to earn a hunter education card.
The Easy Learning System™ features narration that matches the written word, photos that illustrate the lesson, interactive exercises, animations and a test that helps you learn while you take it
Hunter Ed Course is approved as an official online hunter safety course in 18 states, with new states being added on a regular basis.
Hunters and conservationists have developed Hunter Ed Course with the distinct mission of recruiting and education new hunters and supporting the sport of hunting by giving 10% of profits back to the sport to insure future generations of hunters can enjoy the sport.