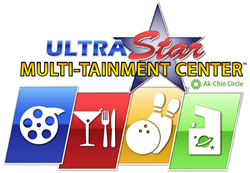 We are very excited to have Wildman Phil join us for a precursor to the opening of Jurassic World," said Adam Saks, COO
Maricopa, AZ (PRWEB) May 29, 2015
On Saturday, June 6th at 10 AM, Wildman Phil Rakoci brings his live reptile and animal show to the UltraStar Multi-tainment Center at Ak-Chin Circle. Nationally recognized for his educational take on the reptile world, Wildman Phil has been a guest on television stations across the nation, including numerous times in the Phoenix area.
This highly entertaining, yet informative presentation combines hands-on demonstrations with amazing facts and wonderful stories about such creatures as Randall the Gila monster, Scooter the Hedgehog, Stumpy the Tortoise, Patches the Python, Amos the Alligator and more.
"We are very excited to have Wildman Phil join us for a precursor to the opening of Jurassic World," said Adam Saks, COO and General Manager of UltraStar Multi-tainment Centers. "One of our goals at the UltraStar Multi-tainment Center is to always be creating unique guest experiences. Wildman Phil's show is a thrilling step into the reptile kingdom and we know our guests will love it."
Attendees can expect a fun filled program while learning interesting facts, on topics such as: respect for wildlife and the environment, animal defenses and their roles, ways to identify dangerous creatures and harmless animals, fact vs fiction and more.
The hands-on one hour show is free to the public and all ages are welcome.