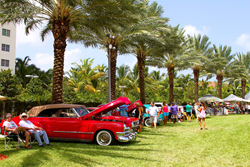 Suny Isles Beach, Florida (PRWEB) May 29, 2015
Stock the kitchen, enjoy good food, purchase a gift for someone special, listen to music, and view & vote for show cars on display this Saturday, May 30 from 10:00 am – 3:00 pm at Heritage Park (19200 Collins Avenue). This event is free and open to the public, providing a great opportunity for residents and visitors to enjoy some early summer outdoor fun.
Be at Heritage Park early to purchase fresh produce and other foods from local vendors. There will also be booths featuring handmade crafts and artwork. Wander around the spacious park and check out the show cars on display, shop the farmers market, pose for pictures, and enjoy food and drink for sale from multiple vendors. Winners from the 2014 Sunny Isles Beach Talent Show will perform throughout the day.
Everyone present at the show has a chance to vote for their favorite car at the information booth. When the votes are tallied, the top three choices will split cash prizes. This one-day car lineup is coordinated by Jumpin' Jack productions.
The SIB Shuttle Bus will follow a special event schedule to take residents to and from the event in style. Free Event Parking is available in the Heritage Park Parking Garage and under the William Lehman Causeway, accessible from southbound A1A.
Stay informed about this and other events by going to the official City website at sibfl.net, or following the City on Twitter & Instagram (@CityofSIB), and on Facebook (City of Sunny Isles Beach). For questions that require a personal touch, please call the Cultural & Community Services Department at 305.792.1706.