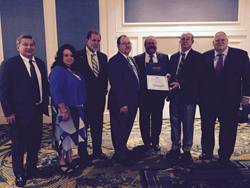 The vessels recognized today are proof that together, we can reach our goal of zero – zero harm to people, property and the environment.
New Orleans, LA (PRWEB) June 02, 2015
Eighty-eight Crowley Maritime Corporation vessels received the Chamber of Shipping of America (CSA)'s annual Jones F. Devlin Award in recognition of their outstanding safety records, during a luncheon held last week in New Orleans, La. Each year the CSA honors manned merchant vessels that have operated for two or more years without incurring a Lost Time Injury (LTI), specifically highlighting the skills and dedication of the crewmembers responsible for safe vessel operations.
Crowley's 2014 Devlin Award-worthy vessels together have achieved an impressive total of 565 years of service without an LTI. Of the 88 awarded, 18 have gone without incident for 10 or more consecutive years. Of those, 11 have gone without incident for more than 15 years and one, Valdez Star, hasn't had an incident in 24 years. Crowley's vessels have earned Devlin Awards annually since 2005. CSA established the Jones F. Devlin Award in 1958. In the first year, 27 vessels received awards; last year, over 1,500 vessels received awards. Over 18,000 awards have been made since the program began.
Accepting all of the awards on behalf of Crowley were Mike Golonka, vice president, ship management; Capt. Andrew Smith; Capt. Bob Cates; and Dale Wilson, manager marine operations, petroleum services.
"Safety continues to be a primary focus for us at Crowley – whether shoreside or aboard one of our vessels – we believe that safety begins and ends with our employees. The vessels recognized today are proof that together, we can reach our goal of zero – zero harm to people, property and the environment," said Golonka.
The 2014 Safety Achievement Awards Luncheon marks the 57th year that the CSA has granted the Jones F. Devlin Awards. The CSA represents 34 U.S.-based companies that own, operate or charter oceangoing tankers, container ships and other merchant vessels engaged in both the domestic and international trades and other entities that maintain a commercial interest in the operation of such oceangoing vessels.
The following list shows all the vessels owned or managed by the Crowley family of companies that have been recognized by CSA with the 2013 Jones F. Devlin Award, along with the consecutive number of years each has operated without an LTI:
Vessel Name Number of Consecutive Years Without an LTI
CROWLEY MARINE SERVICES
Gus E 16
Kalluk 3
MV Admiral 4
MV Aku 15
MV Avik 3
MV Chief 16
MV Goliah 6
MV Guardian 11
MV Guardsman 3
MV Guide 16
MV Hunter 2
MV Kavik River 8
MV Kuparuk River 16
MV Master 9
MV Nachik 2
MV Protector 2
MV Pt. Oliktok 6
MV Pt. Thompson 7
MV Rampart 5
MV Response 9
MV Sag River 14
MV Scout 6
MV Tioga 2
MV Toolik River 7
MV Valor 7
MV Veteren 15
MV Vigilant 15
MV Warrior 4
Roger G 16
Sea Voyager 7
Stalwart 5
Tanerliq 8
Tug Alert 5
Tug Attentive 11
Tug Aware 10
Tug Bulwark 12
Tug Endurance 8
Tug Nanuq 15
Valdez Star 24
CROWLEY PETROLEUM SERVICES
ATB Achievement/650-8 3
ATB Coastal Reliance/550-4 6
ATB Commitment/650-6 5
ATB Courage/650-5 6
ATB Gulf Reliance/650-2 7
ATB Integrity/650-4 3
ATB Legacy/750-1 3
ATB Legend/750-2 2
ATB Pacific Reliance/650-1 2
ATB Pride/650-7 4
ATB Resolve/650-3 2
ATB Sea Reliance/550-1 6
ATB Sound Reliance/550-2 12
ATB Vision/650-10 2
Pennsylvania 2
CROWLEY PUERTO RICO SERVICES
MV Monitor 2
MV Sentinel 3
MV Sentry 15
CROWLEY TECHNICAL MANAGEMENT
Cape Inscription 3
Cape Intrepid 9
Cape Isabel 4
Cape Island 2
Cape Taylor 5
Cape Texas 6
Cape Washington 5
Cape Wrath 7
Empire State 4
Evergreen State 4
Freedom (ARC) 2
Golden State 2
Independence II (ARC) 3
National Glory 2
Ocean Crescent 2
Ocean Giant 2
Ocean Titan 2
Pelican State 5
Resolve (ARC) 2
SS Curtiss 4
SS Wright 8
Sunshine State 5
Swordfish 2
MARINE TRANSPORT LINES
Cape Diamond 5
Cape Domingo 9
Cape Douglas 2
Cape Edmont 14
MARINE TRANSPORT MANAGEMENT
Carat 2
St. Louis Express 3
Washington Express 3
Yorktown Express 2
Crowley, founded 1892, is one of the oldest ship-owning and managing companies in the U.S., providing marine solutions, energy and logistics services in the domestic and international markets. As a third-party ship management company, Crowley provides technical services and crew management as well as a broad range of back-office services. With offices in the U.S., Mumbai, Goa, Hong Kong and Amsterdam, Crowley's international ship management group, including Crowley Accord, manages over 70 vessels of nearly every type and variety. The company shows a strong focus on value-added management models and safe, operational efficiency. To learn more about Crowley, visit http://www.crowley.com.