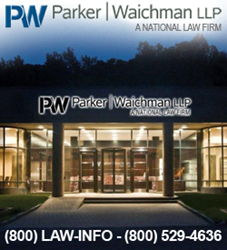 9/11 first responders sacrificed everything at a time when their country needed them the most. They, and their families, deserve to receive aid for their injuries
Port Washington, New York (PRWEB) June 01, 2015
Parker Waichman LLP, a national law firm that has spent many years fighting to ensure that the heroes and survivors of the 9/11 terrorist attacks are never forgotten, applauds lawmakers for their efforts to reauthorize the Zadroga Act. The Act provides medical care and compensation to individuals who became injured or ill due to the attacks. Senator Tom Cotton of Arkansas has become a co-sponsor on a bill that seeks to reauthorize the Zadroga Act, according to a New York Daily News May 11, 2015 editorial. Another NY Daily News editorial published May 13, 2015 indicated that New Jersey Republican Scott Garrett has also enlisted as a co-sponsor. The bill is being spearheaded by New York Senator Kirsten Gillibrand.
According to Parker Waichman LLP, renewing the Zadroga Act is crucial for responders and survivors who became ill due to the attacks. The Act's two programs are the World Trade Center (WTF) Health Program and the September 11th Victim Compensation Fund (VCF), which provide medical treatment and monitoring and compensation, respectively. These benefits are scheduled to expire if the bill is not renewed.
"We applaud these lawmakers for joining efforts to renew the Zadroga Act," said Matthew J. McCauley, Senior Litigation Counsel at Parker Waichman LLP. "9/11 first responders sacrificed everything at a time when their country needed them the most. They, and their families, deserve to receive aid for their injuries."
Parker Waichman LLP has actively worked toward passage of the Zadroga Act, which was passed in 2010. The firm's actions include, in part, lobbying efforts and trips to the nation's capital led by Mr. McCauley, often, along with the firm's clients. Mr. McCauley and Parker Waichman continue to support the Zadroga Act and continue to support efforts to extend the Act's timeline and its scope.
The attorneys at Parker Waichman have represented many individuals who have been exposed to toxic substances and hazardous chemicals that may lead to serious injury and death. "As a firm that has been fighting for the rights of 9/11 responders and survivors since the beginning, we have seen first-hand the effects of toxic dust exposure at Ground Zero." said Gary Falkowitz, Managing Attorney at Parker Waichman. "Reauthorizing the Zadroga Act is vital to providing medical care and compensation to these individuals, and we continue to support efforts to extend these benefits."
Parker Waichman LLP, which worked, and continues to fight, alongside Ground Zero first responders, survivors, and their advocates, to help ensure passage of the Zadroga Act and its amendments, vows to continue its efforts to safeguard these heroes and ensure that they receive all of the Zadroga Act compensation they deserve. If you or a loved one are eligible for compensation under the Zadroga Act, and would like assistance with your claim, or if you or a loved one have been injured as a result of toxic exposure, please visit Parker Waichman's website or call 1-800-LAW-INFO (1-800-529-4636).