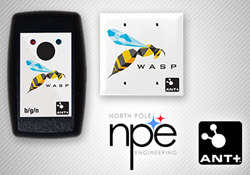 Cochrane, Alberta (PRWEB) June 02, 2015
ANT Wireless, proven innovator in ultra-low power (ULP) wireless technology, highlights North Pole Engineering's (NPE) announcement of three next generation WASP bridge products utilizing ANT Wireless technologies: WASP-N, WASP-PoE-2 and WASP-PoE-3. WASP is a standalone ANT (covering ANT, ANT+ and ANT-FS) and Bluetooth Smart® bridge solution that allows data collected from low-power wireless sensors to be transmitted over WiFi or Ethernet networks.
The new generation of WASP products incorporates key feature enhancements including:

Multiple radios for simultaneous management of ANT and Bluetooth Smart® sensor protocols
WASP OEM ANT network key protection
Onboard memory for data capture, held for later upload
Bi-directional sensor communication and control
Simultaneous traffic management from various combinations of Bluetooth Smart® and ANT protocols
NPE's WASP-N is a mobile, battery powered Wi-Fi bridge solution supporting ANT that enables flexibility in deployment and placement. In addition to its ULP wireless bridging capabilities, the new WASP-N offers 802.11 b/g/n connectivity, Wi-Fi point-to-point or multi-cast streaming, ad-hoc/infrastructure, and flexibility of USB power or up to 6 hours of operation on a single charge of its Li-Ion battery.
With the introduction of WASP-PoE-2 and WASP-PoE-3, NPE upgrades its existing hard-wired ANT to wired Ethernet solution to include 2 and 3 radio versions providing similar bridging functionality as the WASP-N. Certified for use in North America, Europe and in July 2015 New Zealand / Australia, these low-overhead Power-over-Ethernet bridge products provide a robust solution for high density sensor environments requiring a fixed infrastructure deployment model.
"NPE's next generation products embrace interoperability of wireless solutions and are built upon their market proven solutions for large-scale data collection from ANT sensors." said James Fujimoto, Director – ANT Wireless. "Leveraging ANT technology and the ANT+ ecosystem helps WASP products improve solutions for the end-user experience at sport, fitness, and wellness facilities."
About ANT / ANT+ (http://www.thisisant.com)
ANT is an established protocol for ultra-low power (ULP) practical wireless networking applications and is the technology behind over 100M devices. Celebrating over 10 years in wearable technology, ANT is the pervasive ULP wireless technology facilitating the capture of critical market share in the exploding mobile sensor sector. This standardized communication platform enables quick-to-market solutions for application developers, sensor manufacturers, and smartphone makers.
ANT+ facilitates interoperability between ANT+ products and the collection and transfer of sensor data. Applicable in sport, wellness management and home health monitoring, ANT+ (built on the base ANT protocol) defines device profiles that specify data formats, channel parameters and network keys. ANT+ has amassed an ecosystem of world-class technology vendors in the ANT+ Alliance, an open special interest group of companies who have adopted the ANT+ promise of interoperability. These industry leaders offer readily-available brand name products for sport, wellness management and home health monitoring.
The company behind ANT Wireless is Dynastream Innovations Inc. (http://www.dynastream.com). Dynastream was established in 1998 and became a wholly owned subsidiary of Garmin Ltd. in December 2006. Dynastream is based in Cochrane, Alberta, Canada, and is a world innovator in the research and development of inertial and wireless technology.
ANT+ Product Directory (http://www.thisisant.com/directory)
The ANT+ Product Directory is a complete inventory of all ANT+ certified or verified products. It is a tool designed specifically to help consumers source hundreds of industry-leading devices and all compatible products within the vast ANT+ ecosystem. Apps and devices may be searched by product name, brand, activity or product category, allowing the consumer to create a monitoring system that meets their specific needs.