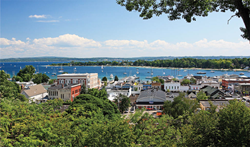 The neighboring northern Michigan communities of Petoskey, Harbor Springs, Bay Harbor and Boyne City are known for their lakeside beauty, Victorian charm and unhurried pace.
Petoskey, MI (PRWEB) June 03, 2015
One-of-a-Kind Fun: Things to Do in the Petoskey Area
The neighboring northern Michigan communities of Petoskey, Harbor Springs, Bay Harbor and Boyne City are known for their lakeside beauty, Victorian charm and unhurried pace. But it's their uncommonly cool attractions that make vacations here even more special and memorable. Take a look at the Top 8 Unique Petoskey Area Attractions. These are things you just won't find anywhere else. And after all, discovering new places and enjoying new experiences is a big part of what vacations are all about.
Stafford's Pointer Boat Tours Throughout the summer
Harbor Springs
After several years of rest, the historic Pointer Boat is once again available for harbor cruises beginning on or around June 1 through September (weather permitting). The boat is located on the water outside Stafford's Pier Restaurant in Harbor Springs. Tickets are $20 per person, $15 for children (10 and under) and tours last 1 hour and 15 minutes.
Downtown Petoskey Summer Open House
June 5
Petoskey
Celebrate the beginning of summer at the Downtown Petoskey Summer Open House. Pennsylvania Park will come alive with the sounds of the Petoskey Steel Drum Band, and downtown will be bustling with activity as merchants show off heir 2015 goods.
Dirty Dog Dash
June 6
Boyne Mountain in Boyne Falls
The Dirty Dog Dash covers 5 km of messy, mountainous terrain with a bunch of obstacles thrown in along the way. This year's race features more mud, more divisions, and a little less hill climbing. Participants will end up feeling tired and dirty, but challenged.
Gallery Walk
June 18
Petoskey
During this evening of art and entertainment, art galleries will greet guests in an open house format and offer delights for the eyes, ears, and taste buds. Many of the galleries participating in Gallery Walk will have the artists present to introduce their works. Art lovers will also get a chance to win some fabulous art donated by the participating galleries.
Quilts by the Bay Quilt Show
June 19-20
Petoskey
The Quilts by the Bay quilt show brings over 100 quilters from the northern Michigan area. More than 150 quilts will be hung at the Emmet County Fairgrounds Community Building. Door prizes will be awarded and a featured quilt will be raffled off.
13th Annual In-Water Boat Show
June 19-21
Take a peek at some of the finest watercraft offerings at the annual Bay Harbor In-Water Boat Show over Father's Day Weekend. This year's show will feature in-water displays from personal watercrafts to luxury yachts as well as diverse on-land displays. There will also be entertainment and fun activities for kids.
21st Annual Petoskey Sand Dig Beach Volleyball Tournament
June 20-21
Petoskey
Where better to play volleyball than at Petoskey State Park, on one of the most beautiful beaches in northern Michigan? Join in the fun and chance to win $2,000 in cash and prizes at the Petoskey Sand Dig Volleyball Tournament, the longest running beach volleyball tournament in northern Michigan.
SOBO Arts Festival
June 27
Boyne City
The SOBO Arts Festival celebrates the visual, performing, written and audible arts at Veterans Memorial Park in historic downtown Boyne City. Artists from throughout the state will display their work in booths, and authors will be on hand for book signings. Attendees will have the opportunity to purchase art as well as observe from the pros at the workshops and demonstrations.
17th Annual Bay Harbor Vintage Car & Boat Festival
June 27
Bay Harbor
Vintage cars and classic wooden boats will be coming to Bay Harbor from all over the country for the Bay Harbor Vintage Car & Boat Festival. The highlight of the weekend is the Parade of Vintage Cars and Display of Vintage Boats, held Saturday afternoon and capped off with a drive-by awards ceremony.
10th Annual Waterfront Wine Festival
June 27
Harbor Springs
The Waterfront Wine Festival transforms the Harbor Springs waterfront into a wine tasting setting with some of the best wines of Michigan, the US and the world available to guests. In addition to the wines, gourmet food samplings from area dining establishments will be available.
###
For photos of the Petoskey Area, please visit the "Media and Info" section of PetoskeyArea.com. For specific requests, please call 800-845-2828 or email Diane(at)PetoskeyArea.com.