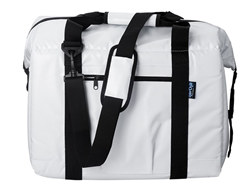 We thought it was a natural fit to merge this resilient material with our cooler bag technology, and we've designed the perfect high-performance cooler to withstand the harshest elements surrounding boating & fishing activities
Orlando, FL (PRWEB) June 04, 2015
NorCross Marine Products® announces the launch of the NorChill BoatBag™ High Performance Marine Cooler. This robust cooler is specially designed with a PVC tarpaulin shell made for durability and water resistance. Fishing and boating enthusiasts alike will benefit from the anti-mildew, UV-protective properties of its tarpaulin shell—a plasticized canvas that won't fade, stain, or become saturated in wet environments.
"Tarpaulins have been used for years in both military and civilian products ranging from tents & gear bags, to even boat hulls", said NorCross President, Greg Lentine. "We thought it was a natural fit to merge this resilient material with our cooler bag technology, and we've designed the perfect high-performance cooler to withstand the harshest elements surrounding boating & fishing activities."
Constructed with the same superior features of the renowned NorChill® High Performance Coolers, this new Marine Cooler is enhanced in a sleek and durable white with black-trimmed waterproof and stain proof shell. It's a sound solution for sailors and day cruisers for island hopping and coastal exploration. It's also perfect for fishermen who spend more time offshore than onshore, and even the everyday weekend warrior just looking to keep food and drinks ice cold.
The NorChill BoatBag™ exterior shell is soft enough not to scuff or damage boat decks, teak floors, or delicate varnish. Yet, it's tough enough to withstand the rigors of a sport fishing cockpit. It can also be storred in a fish box keeping ice frozen awaiting the next great catch. Made with NorChill's world famous Dual Temp Insulation System™, sportsmen and women will appreciate the heat reflective shell designed to stay cool to the touch, even in direct sunlight. The nearly-unbreakable YKK Zipper™ and G8TRSkin™ liner add to the durability of this amazing bag. Available in medium 24-can and large 48-can capacities, with a two-year "you break it, we fix it, no-questions-asked" warranty.