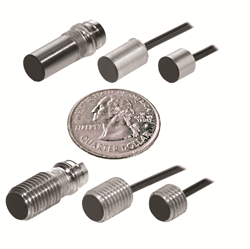 Florence, KY (PRWEB) June 04, 2015
Balluff introduces its SuperShorty inductive sensor line specifically developed for compact applications such as robotic end effectors.
Light-weight and miniature sensors are a requirement for robotic end effectors, where weight and installation space have to be carefully accounted for. Balluff's SuperShorties are extremely lightweight, down to 0.7 grams, and with diameters as small as 6.5mm and lengths as short as 6mm, they are the shortest inductive sensors on the market.
Balluff SuperShorties have self-contained electronics, making remote amplifiers unnecessary, and are produced in stainless steel housings, making them more than suitable in a wide range of challenging applications.
Their small housing and low weight combined with their high-switching precision allow the Balluff SuperShorties to fulfill the challenging requirements for robotic end effectors.
Learn more about Balluff SuperShorty sensors.
Download high resolution image on Flickr.
About Balluff Inc.
Balluff Inc., the U.S. subsidiary of Balluff GmbH, Neuhausen, Germany, is a leading manufacturer of a wide range of inductive, photoelectric, vision, capacitive and magnetic sensors as well as linear position transducers, RFID systems, and networking products. Balluff products for OEM and factory floor solutions are used to control, regulate, automate, assemble, position, and monitor manufacturing, assembly, and packaging sequences for industries including: metalworking, automotive, plastics, material handling, wood processing, aerospace, alternative energy, medical, electrical, and electronics.