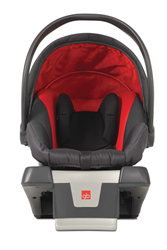 "GB is passionate about car seat safety, and would like to make sure families have access to a great seat," said GB Director of Marketing Communications Jen Johnson
Boston, MA (PRWEB) June 05, 2015
The baby brand, GB, is donating hundreds of new infant car seats to hospitals in the Children's Hospital network.
The donation is part of the company's introduction of the GB Asana35 AP Infant Car Seat.
"Having a safe infant carrier is essential when bringing a newborn home from the hospital," said GB Director of Marketing Communications Jen Johnson. "GB is passionate about car seat safety, and would like to make sure families have access to a great seat."
The GB Asana35 AP being donated offers superior Side Impact Protection and a special FirmFit System to ensure a secure fit every time. Its FirmFit Arm helps provide a tighter fit of the base to the car, with less effort. Its FirmFit Harness offers a no-fuss fit, by automatically securing the straps at the correct position every time, even as the baby grows. And its FirmFit Load Leg protects the baby's head, neck and spine, by preventing the seat from moving forward in a crash. It can be used for infants starting at just 4 pounds, and normally retails at Babies"R"Us for $229.99.
Hospitals participating in the donation include:

Children's Hospital of Philadelphia (Philadelphia, PA)
Johns Hopkins Children's Center (Baltimore, MD)
Rady Children's Hospital (San Diego, CA)
Dell Children's Medical Center of Central Texas (Austin, TX)
Texas Children's Hospital (Houston, TX)
Primary Children's Hospital (Salt Lake City, UT)
Randall Children's Hospital (Portland, OR)
Mary Bridge Children's Hospital (Tacoma, WA)
St. Joseph's Children's Hospital (Tampa, FL)
American Family Children's Hospital (Madison, WI)
Arkansas Children's Hospital (Little Rock, AR)
Sanford Children's Hospital (Fargo, ND)
Each hospital will receive a shipment of 30 car seats, which it will distribute to parents this spring.
GB is a juvenile products brand inspired by international trends in fashion, design and architecture. GB draws from the best of what the world has to offer. Each signature product features distinctive details, premium materials and quality craftsmanship to provide superior comfort and safety for babies, and elegance and convenience for parents. For more information, visit gbchildusa.com.