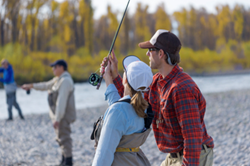 "Spencer will be a great instructor for novices and experts who have an interest in fishing in one of the world's premiere native trout fisheries and we are thrilled to work with such an accomplished outdoorsman."
Jackson, WY (PRWEB) June 04, 2015
The iconic Snow King Resort (http://www.snowking.com) in Jackson Hole, Wyoming announces the launch of fly fishing classes led by award-winning fly fishing expert Spencer Morton of the Jackson Hole Fly Fishing School (http://www.jhflyfishingschool.com). Morton, a Jackson resident and two-time recipient of the "Top Wyoming Guide Award" at the prestigious Jackson Hole One Fly Tournament, and his team will lead students through a fun and entertaining fly fishing instruction. Guests will learn the fundamental skills of fly fishing, or take their current skills to the next level, while enjoying access to the latest in Orvis fly fishing equipment, including the 2015 Orvis Recon fly rods.
"We are extremely excited to partner with Spencer on our new fly fishing school," said Geoff Young, general manager, Snow King Resort. "He will be a great instructor for novices and experts who have an interest in fishing in one of the world's premiere native trout fisheries and we are thrilled to work with such an accomplished outdoorsman."
Classes are held on Mondays and Thursdays from 5 p.m. – 7 p.m. on the grounds of Snow King Resort, featuring inspiring views of the Teton Mountains, and are ideal for individuals, families and groups of all ages and abilities. Cost per two-hour session is $89 for adults and $69 for children 12 and under (who must be at least six years old to participate) with a maximum of eight participants per class. Guests may sign up by calling the hotel and asking for the concierge desk. They will also enjoy a complimentary beverage at Hayden's Post following the class.
Spencer Morton is an expert fly fisherman and instructor with more than 20 years of fly fishing experience. He is recognized as one of the premier fly fishing guides in the Rocky Mountain West and was awarded "Top Wyoming Guide" honors at the prestigious Jackson Hole One Fly Tournament in 2012 and 2013. Upon graduating from the University of Vermont in 2005, with a degree in Environmental Studies and a focus on Fisheries Management, Spencer set out to pursue a career as a guide. Since then, nearly a decade of guiding has taken him to the most sought after fishing destinations on the planet- from his childhood waters of New England, to Patagonia, British Columbia, Alaska, Mexico, Central America, Norway and the vast American west. Throughout this journey, Spencer returned to guide in Jackson Hole, which he considers one of the world's premier native trout fisheries.
###
About Jackson Hole Fly Fishing School
Jackson Hole Fly Fishing School is based in Jackson, WY and provides professional fly fishing instruction for novices and experts visiting Jackson Hole. The company, which was founded in 2005, is owned and operated by Spencer Morton, a Jackson Hole resident. Spencer Morton is an Orvis fly fishing instructor and in addition to the Jackson Hole Fly Fishing School, provides instruction at the Orvis Fly Fishing School and the Snow King Resort in Jackson, WY. http://www.jhflyfishingschool.com | 307-699-3440
About Snow King Resort
Located in the heart of Jackson Hole, Wyoming, Snow King Resort is the town's largest full service, year-round resort offering comfortable Western lodging at the Snow King Hotel and luxurious accommodations at the Grand View Lodge condominiums. Snow King provides a variety of amenities and extensive conference and catering facilities. Mere blocks from Jackson's Town Square, Snow King sits adjacent to the Bridger-Teton National Forest with spectacular mountain views and the hotel's own Snow King Ski Area, which opened in 1939 as Wyoming's first ski resort. Snow King is also gateway to Yellowstone National Park and provides easy access to the area's many recreational opportunities. http://www.snowkingjacksonhole.com.