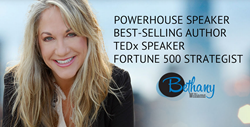 "I spent years struggling to make it to the senior leadership table, and to get companies to pay me the same as my male counterparts… Now I want to use my energy to lead & inspire women to achieve higher level positions, and equal pay."
Dallas, TX (PRWEB) June 09, 2015
Bethany A. Williams and BWE Productions announces the launch of a groundbreaking new show, "3 Days to a Raise," on Grant Cardone's online network, Whatever It Takes (http://www.witnation.com). Her new show is aimed specifically at women in business, with an eye toward helping them achieve two things: Secure high-level leadership roles, and earn more money. Much more.
Senior-level Information Technology executive, growth consultant, and author of six books, Bethany A. Williams, joins a full list of edgy and engaging shows on the network devoted to compelling original content directed at entrepreneurs and executives looking for an edge.
Williams's show will provide a rich store of insight and resources for women in business, including how to gain access to senior leadership roles, negotiate for more money, and find that dream job that we all seem to be searching for.
In tandem with the launch of her new online series, Williams has released a "3 Days to a Raise" video series to teach women how to do this by showing them what is holding them back—as well as detailed instructions on getting those high-level positions and pay increases. This 3-part training seminar will help employees and entrepreneurs alike negotiate for higher incomes and more business—and Williams says her approach has helped numerous women raise their pay immediately, with opportunities to double their income. This video series can be found both on her website and in the WITnation store.
"I spent years struggling to make it to the senior leadership table, and to get companies to pay me the same as my male counterparts," says Williams. "Now I want to use all my resources and energy to lead, instruct, and inspire women to achieve higher level positions, break into new fields, and achieve equal pay."
Williams, who left behind a powerful high-level corporate position to launch her own business, live her passion, and teach other women how to break through to their own inspiring success, is offering access to her digital classroom, including this and other programs, via streaming media on her website, http://www.bethanyawilliams.com as well as in the Whatever it Takes online store at http://witnation.com/product/3-days-to-a-raise-seminar/.
Bethany A. Williams is represented by New York–based media and talent firm 2 Market Media.
***
ABOUT Bethany A Williams
Before Bethany A Williams became a personal brand expert, published author and healthcare IT executive, she was busy helping women find their career footing as they yearned to climb the corporate ladder. Widowed at a young age, she was driven to make the path easier for others despite her own personal struggles.
A business growth expert & coach, powerhouse speaker, successful author and high-level business executive, Bethany has taught thousands of people how to propel their careers to higher altitudes. She knows [and does!] what works in corporate and personal settings.
She does all of this while managing a successful career as an executive and life as a mother of three.
Thousands read her inspirational blog and visit her website for motivation and encouragement. She has authored six books to inspire readers toward success and a better life. Her book, Brand YOU, hit No. 1 in Advertising on Amazon during its first week of release and now sells internationally. She was named one of the top 100 Branding experts to follow on twitter in 2014, and one of the top 25 'Women to Watch' in business by the Dallas Business Journal in 2010.
ABOUT 2 Market Media
2 Market Media is a full-spectrum, non-fiction talent management firm that creates business opportunities and media exposure for experts seeking to reach a mass market. Its clients have a clear base of expertise, a method of delivery, a powerful point of view on the world, and utilize 2MM's training to develop a clear brand and distribution strategy. 2MM's business thrives in the new world of media, which demands content that enlightens and entertains audiences in a single experience.