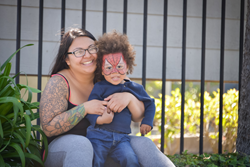 "This is a big step for women who have been silenced."
Los Angeles, CA (PRWEB) June 09, 2015
Supported by national birth advocacy group Improving Birth, mother Kimberly Turbin (previously known as "Kelly" to protect her privacy) has filed a complaint with the Central District of the Los Angeles County Superior Court (BC580006) against her former obstetrician, Dr. Alex Abbassi. According to court documents and video evidence, Dr. Abbassi allegedly performed an episiotomy (the cutting of the perineum between the vagina and the rectum) despite her explicit refusal to consent during the 2013 birth of her only child. Advocates served Dr. Abbassi with the lawsuit on June 3.
According to court documents, the alleged battery, which occurred at Providence Tarzana Medical Center in Tarzana, California, was caught on video by a family member. The incident involved the use of episiotomy—vaginal cutting that has been discredited for decades as harmful to women and not beneficial to babies when performed routinely. Dr. Abbassi allegedly cut Ms. Turbin twelve times during the procedure.
Mothers' advocacy group Improving Birth, which has been assisting Ms. Turbin along with Human Rights in Childbirth and others, continues its fundraising efforts to cover the costs of the case, estimated to be as much as $50,000.
The U.S. Department of Health and Human Services has also been notified of the claim pursuant to the Federal Tort Claims Act, as the defendant doctor appears to have been employed by federally supported health center El Proyecto Del Barrio at the time of the incident, according to court documents.
References:
http://improvingbirth.org/2014/08/vid/
mayoclinic.org/healthy-lifestyle/labor-and-delivery/in-depth/episiotomy/art-20047282
improvingbirth.org/wp-content/uploads/2015/06/Kimberly-State-Court-Complaint-2.pdf
ncbi.nlm.nih.gov/pubmed/1343606
tractionproject.org/sites/default/files/Respectful_Care_at_Birth_9-20-101_Final.pdf
who.int/reproductivehealth/topics/maternal_perinatal/statement-childbirth/en/