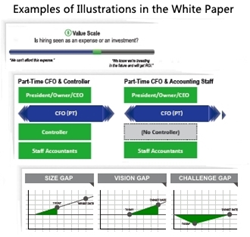 The white paper is an informative, abundantly illustrated, and quick read that brings fresh insights and clarity to executives looking at who should lead their financial teams.
Los Angeles, California (PRWEB) June 09, 2015
Two critical questions inevitably face Los Angeles and Southern California executives who lead companies that are growing:

Is it time to hire a full-time leader for our financial team?
Should we hire a chief financial officer or a controller?
"CFO or Controller: What's Right for Your Business?" is a new complimentary white paper by Los Angeles CFO services firm, CFO Edge, that is designed to support executives deliberating their first full-time hires to lead their financial teams.
"The correct answers to the two questions depend on how executives resolve four underlying business drivers. Choosing the right solution model and resource depends on a number of factors, and the right choice will be different for different companies. Our new white paper clarifies the elements of the decisions, compares expertise of the two roles, and reviews solution models. We also discuss a non-traditional solution – a CFO services firm – that brings high-level expertise without the overhead of a full-time hire," says Arthur F. Rothberg, Managing Director of CFO Edge, LLC, the Los Angeles CFO services firm.
The CFO or Controller white paper helps executives understand the business drivers needing resolution, the merits of CFOs and controllers, and the pros and cons of various solution options.
Information is presented in the following areas:
1. Decision-Making Drivers
The correct solution model is attained by resolving these business challenges.
2. CFOs and Controllers: A Comparison of Roles and Expertise
Differences in skill sets and responsibilities are illustrated in side-by-side comparisons.
3. Real-World Scenarios Illustrating CFOs in Action
Successful financial and operational resolution scenarios illustrate the high-level expertise a chief financial officer brings to the table.
4. Bringing in a CFO Services Professional as a Cost-Effective Alternative
An on-demand chief financial officer delivers full CFO expertise at a fraction of the cost of a full-time hire.
Mr. Rothberg adds, "It's critical to look at financial leadership roles periodically as the CFO and controller roles are essential positions in every business. The white paper is an informative, abundantly illustrated, and quick read that brings fresh insights and clarity to executives looking at who should lead their financial teams."