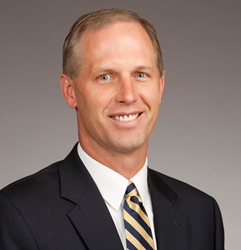 Salt Lake City, UT (PRWEB) June 09, 2015
Holland & Hart LLP announced today that Steven P. Young, a partner in the firm's Salt Lake City office, has been elected to the American College of Tax Counsel (ACTC), an honorary professional association formed in 1981. Membership in the College is an honor reserved for just 700 of the nation's top tax attorneys. Young joins a select group of only four other Fellows of the College in Utah.
Young's tax practice focuses on State and Local Tax. In February 2015, Young led the legal team that obtained a favorable ruling for Anadarko Petroleum Corporation and Kerr-McGee Oil & Gas Onshore, L.P. in a ground-breaking case by the Utah Supreme Court determining how to calculate severance taxes on oil and gas. The decision was a substantial victory for Anadarko and Kerr-McGee, as well as all other oil and gas producers who pay federal, state, or Indian royalties in Utah.
Young is a former President of the Utah State Bar Tax Section and currently serves as Vice President of the American Bar Association State and Local Tax Committee. Young regularly is recognized for his tax law work by The Best Lawyers in America©, Mountain States Super Lawyers®, and the Utah Business Legal Elite.
Candidates for fellowship in the prestigious College must meet a high standard of excellence and ethical performance, be actively engaged in legal practice or education with extraordinary accomplishments and professional achievements, and be a leader in the field dedicated to improving the practice of tax law.
The goals of The American College of Tax Counsel are to foster excellence and elevate professional standards in the practice of tax law; to stimulate skills development and knowledge through continuing legal education programs; to provide input by the tax bar in the development of tax laws; and to facilitate the scholarly discussion and examination of tax policy issues.
About Holland & Hart
Holland & Hart LLP delivers integrated legal solutions to regional, national, and international clients of all sizes. Since its inception in 1947, Holland & Hart's approximately 500 lawyers have consistently been recognized by leading national and international peer and industry review organizations for innovation and dedication to the practice of law. For more information, visit http://www.hollandhart.com.
The Tax, Benefit, and Private Client Practice Group at Holland & Hart is comprised of more than 50 lawyers across 15 offices and represents one of the most robust teams in the Mountain West and the nation. Serving individuals, businesses, and nonprofit organizations, our cross-disciplinary team brings together a suite of services that helps clients solve one-off matters as well as complex, interrelated challenges that can affect the financial health of any enterprise. For more information, visit http://www.hollandhart.com/tax-benefits-and-private-client/