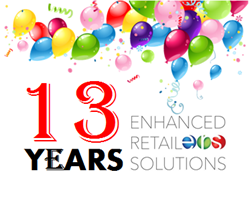 I have been immensely gratified with the continual growth year after year- and proud to have had such a positive impact on so many businesses. -Jim Lewis, founder and CEO at Enhanced Retail Solutions
New York, NY (PRWEB) June 09, 2015
July 1, 2015 will mark Enhanced Retail Solutions' (ERS) thirteenth year anniversary. To celebrate, ERS plans to provide a complimentary download of the Retail Primer to the first thirteen followers on their LinkedIn page in July.
Written by ERS founder and CEO Jim Lewis, the Retail Primer offers specific education and techniques on how to think like a buyer, improve collaboration, and planning to profit. Some of the key topics include making money in today's retail environment, how to present new ideas to the retailer and understanding forecasting from a retail perspective.
Previously a buyer at JCPenney, Jim witnessed vendors' struggle firsthand to share the responsibility of managing the business at their retail partners. As a result, he decided to leave JCPenney to start a consulting business.
Jim quickly realized the need for software that can automate the study of hundreds or thousands of sku's across thousands of doors at nationwide chains. Originally commissioned as internally used software, Jim quickly saw vast interest from his clients. This led to the commercialization of that software.
It has been a long and rewarding journey for ERS. The one-man shop now has a presence in New York City, Texas, Europe and India.
"ERS has a great entrepreneurial story to tell- I risked a lot to bring it into existence" said Jim Lewis." I have been immensely gratified with the continual growth year after year- and proud to have had such a positive impact on so many businesses."
About Enhanced Retail Solutions LLC
Enhanced Retail Solutions is a New York based software and consulting firm specializing in Retail Analysis and Demand Planning for the manufacturer, their retail partners and licensors. ERS' state of the art software tools and consulting deliver critical data quickly, easily and cost effectively, adding over one hundred million dollars to their clients' bottom line. ERS' broad customer base includes industry leaders in the Apparel, Footwear, Home Textile, Toy, Home Décor, Home Improvement, Electronics, Consumer Products, Housewares and Food Industries. For more information, please visit http://www.EnhancedRetailSolutions.com.