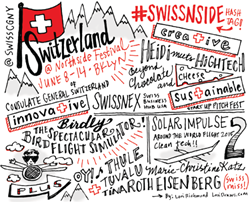 'Far beyond chocolate and cheese, innovation is one of Switzerland's core strengths,' says Ambassador André Schaller, Consul General of Switzerland in New York.
Brooklyn, NY (PRWEB) June 08, 2015
Northside Festival visitors can experience the country's latest inventions at the Switzerland booth on the Expo show floor. Swiss startups and performers will be part of the conference's innovation, music, film, and art program tracks in Brooklyn from June 8-14, 2015.
"Far beyond chocolate and cheese, innovation is one of Switzerland's core strengths," says Ambassador André Schaller, Consul General of Switzerland in New York. "Swiss innovation and creativity continue to make an impact worldwide; whether it is breakthroughs in medical R&D, forefront engineering, cutting-edge design, highest standard watch-making, renewable energy and clean-tech, or sustainable city-planning and transportation."
Heidi Meets High Tech at the Swiss Innovation Expo Booth
As a country located in the heart of Europe with the same population as New York City, creative output and quality craftsmanship has long been a trademark of all things Swiss made. Switzerland has consistently been ranked the most innovative country in the world by the World Intellectual Property Organization.
Tina Roth Eisenberg, aka Swiss Miss, will give opening remarks to kick-off this year's Innovation Festival where Swiss startups will showcase the latest in artificial intelligence, virtual reality, transportation and food tech. Visitors of the Innovation Expo in McCarren Park, June 11-12, 2015, can take a flight simulation on Birdly– the virtual reality experience of flying through the air like a bird, created by students at Zurich University of the Arts. They can learn about the Swiss endeavor Solar Impulse – the first solar aircraft to fly around the world without fuel – led by Swiss adventurers and pilots, Bertrand Piccard and André Borschberg, which will land in New York this summer. The booth also offers a tour of Switzerland through the beautiful Swiss aerial landscape images captured by photographer Yann Arthus-Bertrand, brought to the screen courtesy of Switzerland Tourism.
Swiss Companies Compete at the Innovation Pitch Fest
On June 11, a selection of the most game-changing Swiss entrepreneurs will present their ideas on how we can change the way we eat, live, work and commute during a "Heart of Europe" innovation pitch fest. The Swiss companies will compete with startups from Belgium and The Netherlands. The pitch fest winner will be chosen by a panel of business leaders, including Thomas Wisniewski (RosePaul Ventures), Tanya Mendendez (Makers Row) & Anthony Ha (TechCrunch), and moderated by Elliot Tomaeno, founder of Astrsk PR, a firm that services early-stage tech startups. The Swiss innovation pitch fest participants include:

1DropDiagnostics, a cutting-edge medical diagnostics and life science company;
Best Mile, an urban mobility company which helps manage any vehicle fleet that brings a solution to the last mile problem;
Flatev, the creator of a pod-based machine for tortillas and rotis;
Fotokite, a unique solution for versatile aerial photography;
Starmind, a self-learning technology which applies latest insights from neuroscience and artificial intelligence in order to network and map company-internal knowhow.
TimeRepublik, a global online Community which allows users to exchange services, where the unit of currency is not money, but time.
Experience Award-Winning Swiss Films, Music and Art in Brooklyn and on Social Media
2015 Swiss National Music Prize nominee, OY will take the stage at this year's Northside Festival to share the band's experimental, indie and electronic sounds with New Yorkers. The hypnotic and colorful duo, composed of Swiss-Ghanaian vocalist and musician Joy Frempong, and drummer and producer Lleluja-Ha, will perform as part of the Northside International Music Festival Park on June 12 and at Pete's Candy Store on June 13.
Swiss documentary films will heat up the discussion about sustainability at Northside, during a Swiss film night on June 8 at the Wythe Hotel. The film ThuleTuvalu (2014) by Matthias von Gunten examines the very real threats of climate change from the record ice melts in Thule, Greenland to the rising sea levels in the remote Pacific island nation of Tuvalu. The Swiss animated short film Timber (2014) by Nils Hedinger, winner of Best Animation Film at the 2015 Swiss Film Awards, will be shown prior to the screening of ThuleTuvalu.
Switzerland's artists are renowned for finding new ways of expression and forming entire new art movements. As part of the festival's art track, Swiss artist Marie Christine Katz will perform at this year's Williamsburg Walks, from June 13-14 on Bedford Avenue. She will present Let's Take A Walk #34, a Twitter guided walk and public art project bringing people together for a shared experience from anywhere in the world.
The Consulate General of Switzerland in New York will publish a series of interviews and videos with Swiss artists and entrepreneurs who will participate at this year's Northside Festival. For program details, please see bit.ly/SwissNSide and follow the Consulate General on Twitter @SwissCGNY or join the conversation at #SwissNSide.
About the Consulate General of Switzerland in New York
The mission of the Consulate General of Switzerland in New York is to represent, defend and promote the interests of Switzerland and of Swiss citizens in New York and the Northeast United States. In order to strengthen Swiss-American relations, friendship and common understanding, the Consulate General supports many projects and events throughout the region that aim to further develop a dialogue of exchange between Swiss and Americans in all fields of life. For more information, please visit the official website: http://www.eda.admin.ch/eda/en/home/reps/nameri/vusa/cgny.html or https://www.facebook.com/swissconsulatenewyork. You can also follow the Consulate on Twitter @SwissCGNY. To get the latest on Swiss innovation, follow the hashtag #SwissNside.
Media Contacts
Jennifer Charlton
Consulate General of Switzerland
+1 (212) 599-5700, ext. 1053
jennifer(dot)charlton(at)eda(dot)admin(dot)ch
Katja Schroeder
Expedition PR
+1 (718) 312-8209
katja(at)expeditionpr(dot)com