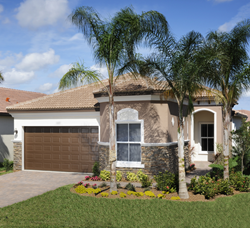 "Today's 55-plus homebuyer wants a residence that features all the amenities you'd find in the most luxurious communities."
Delray Beach, Florida (PRWEB) June 11, 2015
Developers of South Florida's leading 55-plus active lifestyle communities are elevating the treatments and amenities for new home buyers – and winning awards along the way. At Villaggio Reserve in Delray Beach, Florida, whose developer, Ansca Homes, recently was named the 2014 Southeast Regional Builder of the Year by General Electric Appliances, use of the latest appliances and fixtures infuse innovative into active living.
"The award from GE recognizes the efforts today's developers are making to select only the best package of products for every home we build," said Ron Yuter, Senior Vice President of 55-plus home builder Ansca Homes. Residences at its Villaggio Reserve community range from the $290,000s through the $400,000s. "Today's 55-plus homebuyer wants a residence that features all the amenities you'd find in the most luxurious communities."
GE's energy efficient, stainless steel refrigerators, ranges, dishwashers and other appliances come standard in every home at Villaggio Reserve. The products have been an important part of a relationship that dates back 20 years.
"I chose Ansca Homes for the award from among my customers because they've had such phenomenal success," said David Sines, Area Sales Manager with General Electric. "We're proud to be an important part of their product offering and we're honored to present them with this award."
Each residence also features a high efficiency air conditioner from award-winning manufacturer, Carrier Air Conditioner, as well as durable Moen Plumbing fixtures, and beautiful, European-styled Kitchen Kraft® cabinetry.
The use of energy-saving appliances, granite countertops and high-end cabinetry in the kitchens and master bathrooms, and state-approved impact-resistant windows and doors for added safety and peace of mind, highlight the move to higher treatments in today's residences.
This focus also is applied to the clubhouses as well. At Villaggio Reserve, the Cabana Club Fitness Center offers the latest work-out equipment and a staffed Tennis Center featuring a half-dozen lighted Har-Tru Tennis courts with the latest irrigation technology.
As with many of its previous communities, like Bellaggio in Lake Worth, and Ponte Vecchio East and Ponte Vecchio West in Boynton Beach, Ansca Homes' Spanish-Italian architectural designs and custom craftsmanship ensure the high-end treatments are visible – outside and in.
"For more than a generation, we've been proud to have General Electric Appliances featured in the homes we sell," said Charlie Scardina, Jr., Vice President with Ansca Homes. "While we're thrilled to receive the award, the best testament of our mutual trust with GE is how much our residents enjoy using GE products."
About Villaggio Reserve: Built by Ansca Homes, Villaggio Reserve is a destination community in Delray Beach, Florida. Learn more at http://www.VillaggioReserve.com, or call today at (855) 230-0998. Media Contact: Jeff Zbar ~ 954-346-4393 or jeff(at)gotwords(dot)com .