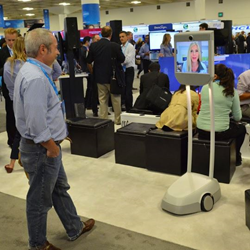 Smart Presence gets you to any trade show anywhere on the globe.
Palo Alto, California (PRWEB) June 09, 2015
For the first time in trade show history, attendees no longer need to be physically present at a trade show. Event Presence, Inc., a company from Palo Alto, California is making it so. They are placing a dozen Beams at the 2015 Augmented World Expo this week, which will allow aspiring attendees to attend the event remotely, from any location in the world.
Beam goes beyond video conferencing technology, enabling users to travel instantly to remote locations, with the freedom of mobility, over a Wi-Fi or cellular 4G LTE connection. Beam is the market's most effective and reliable solution for smart presence, providing uncompromising quality with robust features.
"Event Presence is making the Augmented World Expo accessible to anyone in the world. This is a good show to launch the Beam at, now, virtual reality enthusiasts who are limited by time, distance or finances, will have a way to attend this event.," said Steve Ernst, CEO of Event Presence. "Beam allows anyone around the world to be present and participate, regardless of where they are physically located. It is smart presence in the most literal sense."
How it works:
Piloting a Beam is easy with an intuitive interface, and simple controls: End users can use a mouse, keyboard, or Xbox™ controller to drive. For an immersive experience, the full screen option is optimal. The Beam App is available for Windows 7, Windows 8, and Mac OS X 10.7+.
Start here
About Event Presence:
Event Presence was created to advance the goal to redefine presence, by giving people the power to choose when and where to be present, regardless of geographic location.Event Presence encompasses exhibit vertical technology pioneers with some of the most influential internet company founders to bring Smart Presence, the Beam, to meeting facilities, show management, exhibitors and attendees world-wide.Event Presence and the Beam has aim to make fundamental quality of life improvements for citizens around the world through the deployment of Smart Presence.