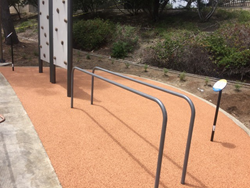 Marblehead Park in San Clemente is right near Marblehead Elementary off Avenida Vista Hermosa. I've passed by it many times and always wanted to stop. The peek-a-boo views of the ocean were just as great as I expected. -Michele Whiteaker
San Clemente, CA (PRWEB) June 09, 2015
PlayCore, the leading company in play and recreation research, programming, and products, recently awards its Fitness National Demonstration Site™ Award to a brand new outdoor fitness park in San Clemente, CA. The City of San Clemente and their representative Aeryn Donnelly-Terrey, with the help of KJ LeCesne (GameTime representative at Great Western Park and Playground), are proud to announce their grand opening of Marblehead Park with an official ribbon cutting taking place on Friday, June 12, 2015.
"The National Demonstration Site Designation is given to parks that align with the four identified areas of a well-rounded workout, involve the community in planning, actively market the space, and agree to participate in future data gathering. The site receives a certification, becomes part of a national registry, and is promoted actively to other communities wishing to offer appropriate outdoor fitness for adults to help share best practices. We know the evidence-based benefits of outdoor exercise are many, and including outdoor fitness parks as an element of a diverse outdoor recreation system promotes community capital. We are excited to be working closely with so many communities to advance health and recreation opportunities with this initiative." –Anne-Marie Spencer, PlayCore's Corporate VP of Marketing.
The new National Demonstration Site will be listed on the National Fitness Park locator at playcore.fitness.com. To learn how to bring best practices in outdoor fitness to your community, request a copy of Outdoor Fitness Parks: Best Practices for Promoting Community Health by Increasing Physical Activity, send a request to info(at)playcore(dot)com.
About PlayCore: PlayCore helps build stronger communities around the world by advancing play through research, education, and partnerships. The company infuses this learning into its complete family of brands. PlayCore combines best in class planning and education programs with the most comprehensive array of recreation products available to create play solutions that match the unique needs of each community they serve. Learn more at http://www.playcore.com