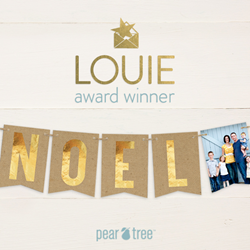 Winning the LOUIE Award for the second time is such an incredible honor for our designers and our brand.
Mankato, MN (PRWEB) June 10, 2015
Pear Tree Greetings is excited to announce that its Noel Faux Foil Banner Christmas Card was the winner of the LOUIE Award in the Announcements & Photo Card category. The LOUIE Awards – considered the "Oscars" of the stationery world – is in its 27th year and recognizes creative excellence in the greeting card industry. This is the second time in three years that a Pear Tree Christmas card has been named a LOUIE Award winner.
The Noel Faux Foil Banner is a Christmas card that was created by Pear Tree's designers and released to consumers during the 2014 holiday season for personalization and purchase online from PearTreeGreetings.com. The unique design of this Christmas card features individually cut-out mini banners strung together on jute twine. The word 'NOEL' is printed in faux foil gold lettering against a burlap background. Customers add a favorite photo to each banner and a personalized greeting at the end.
Product designers Michelle Isebrand, Brandon Reibeling and Kelsey Splinter are always looking for inspiration in current fashion and social trends, interior design and advertising. This card was inspired by a party decorating idea, which they adapted to create a completely unexpected Christmas card.
Angela Ferrara, Director of Product Development for Pear Tree, added, "Our designers did a great job taking their inspiration and turning it into a card our customer would be excited and proud to share with family and friends during the holiday season. This Christmas card is not only outstanding in design, but sends a smile with its message."
According to the LOUIE Awards organization, this year 200 companies worldwide submitted a combined total of more than 1,100 entries, all of which were marketed and sold in the United States during the 2014 calendar year. Entries were judged against five criteria: originality, impact, design excellence, "sendability," and value. Winners were announced in all categories on Sunday, May 17th at the National Stationery Show in New York.
"Winning the LOUIE Award for the second time is such an incredible honor for our designers and our brand. We work hard to give our customers original designs that focus on the latest trends, and it's great to be recognized for it," added Ferrara.
About Pear Tree Greetings
Pear Tree Greetings is all about creating a look that stands out, whether you're planning a wedding or graduation, introducing your new baby, throwing a birthday party or ordering Christmas cards. Surprisingly affordable and easy to personalize with photos, text and over 70 color choices, Pear Tree's award-winning designs magically help you pull everything together to create something amazing. For more information, visit PearTreeGreetings.com.