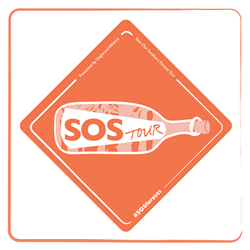 ...celebrate our forests and all of the communities and organizations that work to protect them.
Asheville, NC (PRWEB) June 11, 2015
Dogwood Alliance and local partners will be hosting community forest fun days, informational meetings, and staging two large human banners in five cities across the South this summer. The Save Our Southern (SOS) Forest Tour aims to celebrate our environment and forests and all of the communities and organizations that work to protect them as well as raise awareness around threats to the forests of the Southern United States. The tour will also provide local citizens with ways they can get involved and support efforts to shift local, state, national and international policies away from promoting increased logging and toward valuing forests for all of the other important benefits that they provide.
The tour will launch in Baton Rouge, Louisiana on June 17th then travel to Mobile, Alabama and Panama City, Florida on June 18th and June 22nd respectively. The tour will conclude with two major events in Savannah, Georgia and Wilmington, North Carolina on June 26th and 28th that will feature the staging of a human banner in the form of an SOS which will be sent to policy-makers in Europe who are currently debating the role Southern forests should play in their electricity generation.
Tour Dates:
June 17 – SOS Forest Tour Launch Party, 7-9 pm, Baton Rouge, LA
June 18 – SOS Forest Fun Day and Community Meeting, 10-3 and 5:30-7pm, Mobile, AL
June 22 – SOS Forest Community Meeting, 5:30-7 pm, Panama City, FL
June 26 – SOS Forest Fun Day and Human Banner, 10-4pm, Savannah, GA
June 28 – SOS Forest Fun Day and Human Banner, 10-4pm, Wilmington, NC
There is a growing movement of Southerners who are upset that their precious forests are being chopped down, turned into wood pellets, and shipped overseas to be burned for electricity in Europe at the expense of our local communities, environment, and climate. The Southern US has rapidly become the largest exporter of wood pellets in the world and this summer community leaders, conservationists, and concerned citizens will be gathering to celebrate forests and call on Europe to stop incentivizing the destruction of our forest resources.
The tour is focused on all of the major port cities where forests are being exported from in the region over to Europe. Decision-makers in Europe and the US are on the verge of changing the flawed policies that are driving the expansion of this industry and now is the perfect time to send a message to Save Our Southern (SOS) forests and don't let them go up in smoke while we also celebrate all of the benefits our forests provide – clean water, protection from storms, wildlife habitat and more.
For More Information on the SOS Tour including times and locations, please visit: http://www.dogwoodalliance.org/act-now/sos-tour/
About Dogwood Alliance
Dogwood Alliance is increasing protection for millions of acres of Southern forests by transforming the way corporations, landowners and communities value them for their climate, wildlife and water benefits. Dogwood Alliance has revolutionized the environmental practices of some of the world's largest corporations. For more information on the organization please visit http://www.dogwoodalliance.org or follow on Twitter @DogwoodAlliance.