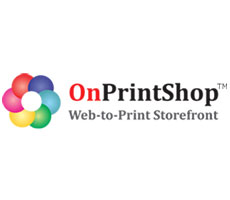 OnPrintShop is a superior organization. They consistently provide superior value and service. I could not be more pleased with OnPrintShop's Web-to-Print Solutions and take every opportunity to praise this outstanding organization of professionals
Ahmedabad, India (PRWEB) June 11, 2015
OnPrintShop, the industry leading global provider of customized Web-to-Print Solutions has been recognized for robust solution, customizations, upgrades & personalized support, by Personalized Paper Mfg. Group (PrintPPS.com) part of Julmark group of companies, leading manufacturer and distributor of quality stationary products since 1976.
"It means a lot to us to be recognized for delivering the flexibility to easily customize Web-to-Print Software and consistent upgrades to quickly meet fast changing online business strategy, when the industry research indicates over 80% Print Providers are disappointed with Web2Print Software or Online Printing Software because of its rigidness for customization," Naresh Bordia, V.P. Business Development, OnPrintShop.
Dave Gaulden, CEO-Print PPS stated "In early 2011, Personalized Paper Manufacturing Group had the primary objective of finding an Online Printing Software that would allow customers to design stationery products online as well as upload a design they created offline. We looked at several different potential partners, but found OnPrintShop offered the best Web-to-Print Solutions, flexibility and value, so contracted with OnPrintShop in December of 2011.That decision has translated to an annualized sales increase of over 30% for each of the last three years and that sales growth trend is continuing into 2015."
He further added, "There are three major factors which resulted the remarkable success – 1. Upgrades: Over the last three years, we have upgraded our OnPrintShop Online Printing Software twice a year where we incorporate additions that OnPrintShop has made to the Web2Print Software as well as upgrades we have developed that will make our company for efficient and productive. 2. Customization: we have special software requirements that do not apply to other printing companies and OnPrintShop has taken our exclusive requirements and implemented those custom requirements into our web-to-Print Software package. 3. Personalized Support: Without question, the best attribute of OnPrintShop is its people. For over three years, I have worked closely with my OnPrintShop Project Leader, and his team of professionals. I am not a programmer…not even close…but OnPrintShop Web-to-Print Software team is the best in the business. They have a unique way of taking my conceptual ideas and turn them into software functionality."
"Bottom line, OnPrintShop is a superior organization. They treat my business like it is their own and they consistently provide superior value and service. I could not be more pleased with OnPrintShop's Web-to-Print Solutions and take every opportunity to praise this outstanding organization of professionals," Dave concluded.
About OnPrintShop:
OnPrintShop is a flagship product of Radixweb, an ISO 9001:2008 certified IT services provider with 14+ years of experience in delivering enterprise-class solutions for diverse industry verticals. With over 8+ years' experience delivering SaaS to custom Web2Print Software from startups to large PSPs & Fortune 500 companies, OnPrintShop has been recognized as the most simple & easy to use Online Printing Software provider to automate print process from online order to delivery. Delivering personalized support 24/5 & work as PSPs IT team. The range of solutions are powered by advanced technologies with flexible investment options-SaaS & highly customizable License Solutions. The Solutions - Platinum W2P, Online Photobook, Trade Printer, Multi-Store W2P Central Admin, Book Module, Custom-made Solutions. Visit http://www.onprintshop.com