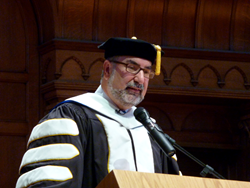 "if we can save a child's life, we should; that if we have an ability to lift a person out of the crushing burden of scarcity and poverty, that is our duty; and that if we have the talent to affect change for the better, we must use it."
Ottawa, Ontario (PRWEB) June 11, 2015
With 79 international awards acknowledging his innovative humanitarian work in behaviour-change mass communications to better the human condition, Firdaus Kharas has added what may be his most relevant yet. On June 11, he receives an honorary Doctor of Laws from Carleton University in Ottawa, Canada.
The presentation for the doctorate will take place as part of the university's three-day spring convocation ceremonies. Carleton University cited Mr. Kharas "in recognition of his innovative work as a social entrepreneur and for his contributions to the advancement of public health and children's rights in a global context."
Mr. Kharas also addressed the graduates. He said:
"I have always believed that our shared commonalities as human beings affirm that we will not tolerate mistreatment or injustice; that if we can save a child's life, we should; that if we have an ability to lift a person out of the crushing burden of scarcity and poverty, that is our duty; and that if we have the talent to affect change for the better, we must use it."
Mr. Kharas stated, "My work rests on a deeply-held belief that we can communicate with each other despite the many barriers that separate us: languages and cultures, tribes and ethnicities, geographies and borders. We have forgotten the commonalities that we have as a species and have instead accentuated the differences like culture and religion. I am convinced that communications can greatly assist us to bridge our differences and return to the concept of one human family.
It is the second honorary doctorate for Kharas, who received a Doctor of Humanities from Thiel College in Greenville, Pennsylvania, where Kharas completed his under-graduate degree in political science.
He completed his Master's in International Affairs at Carleton in 1980 where his thesis was On The Utility and Formation of a Draft International Convention Against Torture. It was a prescient subject that would come to dominate world geo-political thinking in the 21st Century, introducing the doctrine that came to be known 15 years later as "human security."
"I am deeply touched and humbled by this very high honour. I would like to thank the Senate and the President of Carleton very much for this honorary degree, which I shall cherish for the rest of my life. This honour is not just for me but is shared by many people, including a thousand volunteers, who have joined with me in a quest to better the human condition using mass communications," Kharas says.
After graduating he worked for the United Nations Association of Canada and the Canadian Immigration and Refugee Board before starting Chocolate Moose Media, a film-and-video production company that mixed for-profit and non-profit work.
Kharas's growing list of awards and honours comes primarily from his humanitarian work which has been watched by millions of people around the world.
About Chocolate Moose Media:
Chocolate Moose Media is the world's leading producer of animated behaviour-change communications aimed at solving health and social issues around the world. It produces film and animated television with offices in Geneva, Switzerland, and Ottawa, Canada. President Firdaus Kharas uses proceeds from for-profit projects to fund not-for-profit campaigns targeting health and other social issues. These are in the form of animated shorts and include Peabody-award winner The Three Amigos (combatting HIV/AIDS); Buzz and Bite (preventing the spread of malaria); Hind and Hamza (on values); No Excuses (targeting sexual and domestic violence); Rashid: Living With Type 1 Diabetes Ebola (prevention) and the upcoming Solar Campaign (replacing kerosene lamps with solar lights).
Further information can be found at http://www.chocmoose.com
For further information please contact Mike Levin at 613 233-9970 or mlevin(at)sympatico(dot)ca