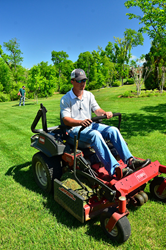 "It's a thrill to give back to budding entrepreneurs. We believe the future of our country will be forged by the entrepreneurial spirit of today's generation. We just want to do our part by encouraging entrepreneurism." GreenPal CEO Bryan Clayton
Nashville, TN (PRWEB) June 12, 2015
Company awards entrepreneurial college student
"The money will be a big help to my family and me," said Gordman. It is nice to receive recognition for some of my accomplishments thus far, but more importantly, it motivates me to work even harder now. It means a lot that the GreenPal team sees potential in me."
Gordman is the second winner of GreenPal's twice-annual scholarship. He boasts a 4.0 GPA and owns his own lawn care company. Further, Gordman has several technology business plans ready to take flight after graduation.
"We have a lot of fun with the semi-annual scholarship essay contest," said GreenPal founder and CEO Bryan Clayton. "It's a thrill to give back to budding entrepreneurs. We believe the future of our country will be forged by the entrepreneurial spirit of today's generation. We just want to do our part by encouraging entrepreneurism."
Clayton created the scholarship to encourage and reward hardworking student entrepreneurs. Clayton started his first company, a lawn mowing business, while still in high school. While attending college, he grew the company to more than 100 employees and eventually sold it to a national organization.
"GreenPal's model is to first and foremost deliver high quality, on-demand lawncare," said Clayton. "Additionally though, GreenPal aims to help lawn care entrepreneurs grow their businesses by connecting them to the GreenPal app and network. We're all about making entrepreneurs successful here."
The enrollment period for 2016's scholarship will open August 1st. Submission requirements will be listed at yourgreenpal.com
About GreenPal: GreenPal is lawn care made easy--connecting homeowners seamlessly with nearby lawn care professionals through its website and mobile app. GreenPal's mission is to deliver a delightful experience to homeowners for their lawn mowing needs, while growing the businesses of its professional lawn vendor partners.