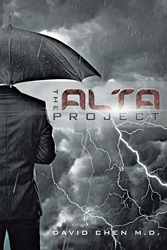 The entire world is thrown into chaos as financial, political, and religious systems are turned upside down
BILLINGS, Mont. (PRWEB) June 15, 2015
What would happen to civilized society in the aftermath of a global pandemic?
Dr. David Chen, a medical administrator, ponders that question frequently. His new novel, "The ALTA Project," imagines a doomsday scenario in which a third of the world's population is destroyed by a deadly disease. The entire world is thrown into chaos as financial, political, and religious systems are turned upside down.
"The ALTA Project" follows a few central characters as they weave through a dangerous new world in an attempt to restore order despite mysterious forces working against them at every turn.
For more information, visit http://www.thealtaproject.com.
The ALTA Project
By David Chen, M.D.
ISBN: 978-1-4918-2563-1
Available in softcover, hardcover, e-book
Available on Amazon, Barnes & Noble and AuthorHouse
About the author
Dr. David Chen currently works in hospital administration. In addition to his vast medical experience, he has also spent a great deal of time studying history and prophecy. These converging interests led to the writing of The ALTA Project. Dr. Chen resides in Montana.
# # #
For review copies or interview requests, contact:
Drew Tharp
317.602.7137
dtharp@bohlsengroup.com