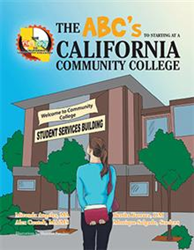 The goal is to provide a tool to facilitate the opportunity for everyone, including non-traditional and low-income families, to have conversations about going to college
LOS ANGELES, Calif. (PRWEB) June 15, 2015
Many students are unaware of nontraditional options for higher education – they think that if they don't fit the mold for the typical four-year universities, their schooling has reached the end of the road.
A group of community college experts have come to challenge that method of thinking. In "The ABC's to Starting at a California Community College," Dr. Bertha Barraza and her colleagues at Mt. San Jacinto College compile a guide with all the knowledge needed to enroll, and excel, in programs at community colleges.
"This book serves as an eye-opener for students, parents, schools, and other agency officials to provide them with an understanding of the matriculation process and beyond," Barraza said.
Together, Barraza and her collaborators have over 70 years of experience working and studying in the California community college system. With four easy-to-read sections and 50 illustrations, they hope their book delivers a comprehensive understanding of how community colleges operate in order to make students' entrance a pleasant experience in higher education.
"The goal is to provide a tool to facilitate the opportunity for everyone, including non-traditional and low-income families, to have conversations about going to college," Barraza said.
For more information, visit http://www.xlibris.com.
The ABC's to Starting at a California Community College
By Dr. Bertha Barraza
ISBN: 978-1-50352-159-9
Available in softcover, hardcover, e-book
Available on Amazon, Barnes & Noble and Xlibris
About the authors
Bertha Barraza is a counselor and professor at Mt. San Jacinto College in San Jacinto, California. She wrote this book in collaboration with Miranda Angeles, MA, Alex Cuatok, MA/MS, and Monique Salgado. Angeles and Cuatok are both Mt. San Jacinto employees, and Salgado is a former student.
# # #
**FOR IMMEDIATE RELEASE**
For review copies or interview requests, contact:
Drew Tharp
317.602.7137
dtharp(at)bohlsengroup(dot)com