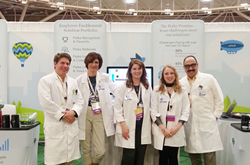 Leaders shared their insights on the greater need to create engagement initiatives that are fiscally compelling with ROI that supports the company growth objectives. - Steve Timmerman, Perks Co-Founder
Little Rock, Arkansas (PRWEB) June 11, 2015
Perks.com, global provider of innovative rewards and recognition solutions sponsored and exhibited in the 2015 World at Work Total Rewards Conference June 18 through June 20 and gained some valuable insight regarding HR pain points and concerns in the realm of rewards and recognition.
Perks noted that many HR professionals had informal rewards programs in place, but not many provided visible ROI needed to justify spending. Additionally, talent acquisition and onboarding were hot topics- with many professionals seeking solutions that both educated and motivated employees during the crucial first few months of employment with the company. Last but not least, many professionals were looking for a way to create a consistency in rewarding employees across various office locations, global and domestic.
Perks' co-founder Steve Timmerman, who attended the event, strongly believes in the use of smart, gamified incentive solutions to improve employee engagement and increase corporate retention rates.
"Talent Management leaders made it clear that they view the recovering business economy as an opportunity for employee flight risk from companies that lack formal employee engagement strategies with touch-points throughout the employee lifecycle," states Timmerman.
With Millennials being the top job hopper generation and populating the largest percentage of the U.S. labor force, it is increasingly important to retain this group of top talent (for more information download Perks' free White Paper: Let the Games Begin). Timmerman continues by saying:
"Best of breed companies include strategic elements like skills development, career planning, and greater levels of inclusion in their employers business; all supported with multi-channel social recognition and rewards programs that appeal to all generations. Moreover, leaders shared their insights on the greater need to create engagement initiatives that are fiscally compelling with ROI that supports the company growth objectives."
As showcased at the event, Perks provides a variety of employee engagement solutions to combat these HR challenges and many more using their Science of Motivation methodology, a gamified platform, and lifecycle approach to accomplish business objectives. For further information regarding your future or existing incentive program please contact Perks here.
About Perks
Perks provides global programs that motivate, recognize and reward the people that matter most to your business. Through the thoughtful use of promotions, education and incentives, Perks Enterprise Engagement engine, helps achieve business success. Products, Services and Rewards modules are designed to provide the flexibility needed to customize programs based on your business requirements.