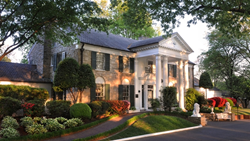 Tennessee has claimed five of the top six spots on USA Today's list of '10 Best Musical Attractions.'
Nashville, Tenn. (PRWEB) June 15, 2015
The state of Tennessee has claimed five of the top six spots on USA Today's list of "10 Best Musical Attractions," voted by the publication's readers.
Memphis' Graceland and Sun Studio hold the top two spots, respectively. Grand Ole Opry ranked fourth most popular; Stax Museum of American Soul Music ranked fifth; and Dollywood ranked sixth.
"Readers of the nation's No. 1 newspaper have declared Tennessee the No. 1 best state for music," said Commissioner Kevin Triplett, Tennessee Department of Tourist Development. "These five Tennessee attractions are at the top, but that's just the beginning of all Tennessee has to offer to music fans from around the world."
USA Today's "10 Best" Readers Choice list is published annually and is compiled based on responses to an online vote conducted by USA Today and 10Best, which provides users with unbiased and experiential travel content of top attractions, things to see and do, and restaurants for top destinations in the U.S. and around the world.
This announcement comes at the height of live music season in Tennessee with Nashville's CMA Music Festival, Manchester's Bonnaroo, and Chattanooga's Riverbend Festival in full swing.
The Tennessee Department of Tourist Development has adopted the slogan: "The Soundtrack of America. Made in Tennessee" to drive awareness for the Volunteer State as the global music destination of choice.
The state's $16.7 billion tourism industry last year attracted more than 101 million visitors from around the world.
For more information on Tennessee's vast music offerings, visit http://www.tnvacation.com/music-arts.
# # #
Explore more at tnvacation.com and join other Tennessee travelers by following "TNVacation" on Facebook, Twitter, Pinterest, Instagram and YouTube.