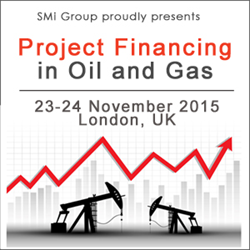 Different scenarios regarding the oil and gas commodity prices and the resulting effect on Project Financing will be discussed, as well as understanding the complexities around financing your own oil or gas project
London, UK (PRWEB UK) 15 June 2015
SMi's Project Financing in Oil and Gas Conference is aimed to give a detailed update on the Project Financing Markets. Crucially, different scenarios regarding the oil and gas commodity prices and the resulting effect on Project Financing will be discussed, as well as understanding the complexities around financing your own oil or gas project.
Event attendees 2015 will hear from experts on how project financing can be used in a variety of scenarios, including joint ventures. Other structured financing techniques will be discussed, allowing the audience to understand when Project Financing really is the best option. The risks and how to mitigate them will be discussed in regard to up, mid and downstream as well as considering the difficulties that political instability creates.
Benefits of Attending:

Hear how different oil price scenarios will impact project financing
Understand when project financing is the right financing structure for your project
Listen to and network with the top banks in project finance for oil and gas projects
Learn about ways in which political risk could be mitigated
Key presentations include:
Keynote Address: The impact of oil prices on project finance loan markets
Speaker: Liam O'Keeffe, Managing Director, Head of Project Finance, Credit Agricole Corporate and Investment Bank
•Managing a joint venture: What you need to know
Speaker: Obiajulu Ihekoromadu, Chairman and CEO, Niger Omega Group
•Considering the difficulties surrounding securing finance for pipelines
Speaker: Dolan Hinch, Head of Middle East & Africa, Infrastructure & Energy, Deutsche Bank
•LNG projects and their financing: Heyday or Mayday?
Speaker: Bali Kochar, Executive Director, International Structured Finance, Banca Imi S.p.A.
•Working with the Export Credit Finance to secure funding
Speaker: David Craig, Manager, Project and Structured Finance, UK Export Credit Agency
•Completing projects in Nigeria: The key things you need to know
Speaker: Folajimi Alli-Balogun, Associate, Aluko & Oyebude
The complete 2-day event programme including all speakers and their topics available at http://www.projectfinance-oilgas.com/prweb
Event speakers 2015 include:
Liam O'Keeffe, Managing Director, Credit Agricole
Obiajulu Ihekoromadu, Chairman and CEO, Niger Omega Group
David Craig, Manager, Project and Structured Finance, UK Export Credit Agency
Jack Peck, Managing Director, Reserve Based Finance, Natural Resources, Société Générale
Tom Woolgar, Director, EMEA Energy, Scotiabank
Dolan Hinch, Head of Middle East & Africa, Infrastrcture & Energy, Deutsche Bank
Bali Kochar, Executive Director, International Structured Finance, Banca Imi S.p.A
Robert Clews, Head of Oil, Gas and Petrochemical, Project Finance, Sumitomo Mitsui Banking Corporation Europe
Christian Coulter, Managing Director, Head of Energy Capital, Macquarie Bank
Jan Gabrynowicz, Director, Head of Oil & Gas, London, Project Finance, Commonwealth Bank of Australia
Brian Marcus, Director, Oil and Gas Project and Export Finance, Standard Chartered Bank
Stephen Enderle, Head of Oil & Gas Finance, Investment Banking, Rand Merchant Bank
The event programme also includes an interactive half-day post-conference workshop, hosted by Ian Cogswell, Managing Director – Heed of Natural Resources, Global Infrastructure & Projects, Natixis
For more information or to register visit the website at http://www.projectfinance-oilgas.com/prweb
2nd annual Project Financing in Oil and Gas
23rd – 24th November 2015
Holiday Inn Regents Park, London, UK
http://www.projectfinance-oilgas.com/prweb
Contact e-mail: jrotar(at)smi-online(dot)co(dot)uk
Contact number: Tommy King: +44 (0) 20 7827 6052