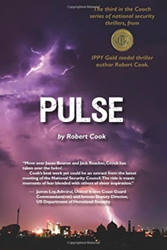 Cook's best work yet – the ride is manic moments of fear, blended with sheer inspiration.
St. Helena, CA (PRWEB) June 12, 2015
In honor of Flag Day this coming weekend and for a limited period, gold medal-winning author Robert Cook will offer his latest best-seller Pulse for unrestricted Kindle download. Third and latest in a series of pulse-pounding national security novels, this complimentary access on Amazon will be offered June 12-16. Download here: Amazon
The novel has been cited as "Cook's best work yet – the ride is manic moments of fear, blended with sheer inspiration" while the author is noted for "illuminating digital publishing excellence" in the mystery/thriller category."
In Pulse, Alex Cuchulain, aka Cooch – CIA's biggest bad guy -- has his team working full speed to save the middle east from armageddon. Caitlin, the brainy one, Brooks, the Rhodes scholar and former SEAL and Jerome, the master sniper all work frantically to keep the middle east from going radioactive.
Nuclear negotiations with Iran have failed. Iran has completed its nuclear weapon and is ready to use it to attack Israel. Israel will hit back. The United States hits Iran with an all-out surprise attack – new weapons and old weapons by sea and air, delivered with ultimate shock and awe.
Pulse swirls through Tangier, Washington, Camp David and Tehran in an exciting blend of dynamic writing and believable plot. In a cover comment, former Deputy Director of Homeland Security and Commandant of the US Coast Guard, says, "Move over Jason Bourne and Jack Reacher, Cooch has taken over the helm."
About Robert Cook
Robert Cook is a shooter, soldier, entrepreneur, philanthropist, venture capitalist, vintner at cult wine producer Dancing Hares Vineyard and now author. A United States Army Vietnam veteran, he attained the rank of Major and holds the parachutists badge, Bronze Star Medal and the Army Commendation Medal.
Mr. Cook is an active philanthropist. He endowed the Robert E. Cook Honors College of Indiana University of Pennsylvania that was recently covered in Donald Asher's book, "Cool Colleges for the Hyper Intelligent, Late Blooming and Just Plain Different." IUP Honors College. He is currently active in its support, particularly for Achievement Funds used for assistance in study abroad and supporting low-paying, but valuable, internships.
Cook was named the Ernst and Young Entrepreneur of the Year for the Metropolitan Washington, DC Region in 1987.
Originally of Altoona, Pennsylvania, Cook holds a BS in Mathematics from Indiana University of Pennsylvania and an MBA from the George Washington University.
Media Contact:
Stacey Radinger
Sradi93466(at)aol(dot)com
(707) 331-9844
Robert E. Cook
PO Box 853
St. Helena, CA 94574