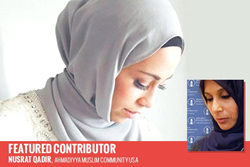 The Supreme Court ruling upholds the American value of freedom of religion and enables hijab wearing Muslim women a fair opportunity to earn a living. This ruling also makes a statement about the right for all women to be valued beyond appearance
San Francisco, CA (PRWEB) June 12, 2015
Nusrat Nadir is the latest 'Featured Contributor' to write an opinion piece on WorldReligionNews.com. Published June 8th, Nusrat Nadir shares her opinion on the Supreme Court ruling against Abercombie & Fitch and judging women based on their appearance.
Nusrat writes within her piece: "The Supreme Court ruling upholds the American value of freedom of religion and enables hijab wearing Muslim women a fair opportunity to earn a living. This ruling also makes a statement about the right for all women to be valued beyond appearance."
Read Nusrat Nadir's entire WRN 'Featured Contributor' article here: http://www.worldreligionnews.com/issues/the-supreme-court-ruling-in-favor-of-wearing-the-hijab-is-in-favor-of-women-everywhere
WorldReligionNews.com has established its 'Featured Contributor' program to offer writers officially affiliated with the world's faiths and belief systems, as well as independent writers, bloggers, journalists and authors of note, a public platform from which to publish religion focused articles that will reach not only WRN visitors but also appear via third party content syndication partners on sites like CNN, FOX, New York Daily News and others.
If you are an officially affiliated spokesperson/writer for a particular religious organization or, a prominent writer, blogger journalist of note who would like to be considered for a 'Featured Contributor' article placement on WRN, contact us here: http://www.worldreligionnews.com/guest-blogger-submission/.