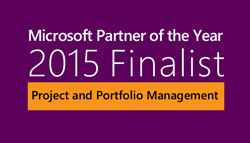 Phoenix, AZ (PRWEB) June 12, 2015
Sensei Project Solutions today announced it has been named a finalist in the 2015 Microsoft Project and Portfolio Management Partner of the Year Award. The company was honored among a global field of top Microsoft partners for demonstrating excellence in innovation and implementation of customer solutions based on Microsoft technology.
"Sensei has been recognized as a global leader in Project and Portfolio Management on the Microsoft platform two years in a row", said Kenneth Steiness, CEO of Sensei Project Solutions. "That is such an honor and speaks volumes of the team we've put together and the value we provide to our clients."
Awards were presented in several categories, with winners chosen from a set of more than 2,300 entrants from 108 different countries worldwide. Sensei Project Solutions was recognized for providing outstanding solutions and services in Microsoft Project and Portfolio Management.
The 2015 Microsoft Project and Portfolio Management Partner of the Year Award recognizes Microsoft partners that have developed and delivered exceptional Microsoft-based solutions during the past year. "Microsoft's success as a company is dependent upon our ecosystem of great partners, and Sensei Project Solutions is a shining example of the kind of innovation our partners continue to drive year after year," said Phil Sorgen, corporate vice president, Worldwide Partner Group, Microsoft Corp. "We are pleased to recognize Sensei Project Solutions for being selected as finalist of the 2015 Microsoft Project and Portfolio Management (PPM) award and for demonstrating excellence in providing value to our mutual customers."
Sensei Project Solutions, Inc., winner of the 2014 Microsoft Project and Portfolio Management (PPM) Partner of the Year, specializes in PPM deployments with Microsoft Project Online, Microsoft Project Server and Microsoft Project. With extensive experience on hundreds of PPM deployments and with thousands of users trained, Sensei Project Solutions brings a process-focused approach and support for industry standards and best practices to all engagements. Sensei is a Registered Education Provider (R.E.P.) with the Project Management Institute (PMI®) and provides Professional Development Units (PDUs) from PMI for all Training courses. As a Gold certified Microsoft Partner, we offer a complete set of services to help an organization make their Microsoft PPM deployment successful, including full implementation and support services, training, e-learning, pre-configured solutions, report packs, and Apps across multiple platforms.