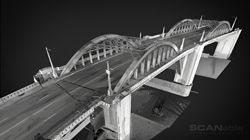 "With current technology, we can digitally create floods that wipe out houses and make supermodels come alive from magazine covers - things to thrill audiences in ways they could only imagine before." -Travis Reinke, SCANable
Los Angeles, California (PRWEB) June 17, 2015
In their fourth film, Google Spotlight Stories has created a new mobile format for storytelling that pushes what's technically and creatively possible. Partnering with visual effects firm The Mill, the 3D imaging experts at SCANable helped make this virtual reality experience come alive. SCANable provided 3D scanning of the sets, locations and vehicles, and body scanning of actors in Los Angeles for recreation of each item as photorealistic 3D digital assets. This release, titled "HELP" is a classic tale of explosions, aliens, heroines and heroes. The difference is that the viewer's mobile device holds the story, giving the audience a window to look anywhere, set the pace and frame the shot.
"3D movies have come a long way from the days of drive-in movies with bulky glasses," states SCANable founder Travis Reinke. "With current technology, we can digitally create floods that wipe out houses and make supermodels come alive from magazine covers - things to thrill audiences and help companies promote products and services in ways they could only imagine before."
In the context of recent "immersive" productions, "HELP" is groundbreaking in that it combines live action and computer-generated imagery in a 360-degree virtual reality environment, creating an action-driven story deploying cinematic quality visual effects. When you watch "HELP," your phone is a window into a 360-degree world captured by a specially designed camera array. With the app currently available for the latest Android phones, and available soon on iOS devices, you simply point the phone in the direction you wish - when you hear those churning blades, you might choose to lift the phone towards the sky, to see the helicopter hovering above. Or you could continue tracking the damsel. Or even look behind to see what's chasing her.
SCANable was on-set for most of the production filming and also captured other locations around Los Angeles, California including the Chinatown Station, the famous Sixth Street Bridge, and the LA River bottom which can be seen throughout the immersive feature. According to Reinke, working with trendsetting directors like Justin Lin (Fast & Furious franchise) and the creative team at The Mill on "HELP" is an every-day occurrence. Reinke and his team have been a part of mega-hits including Marvel's "Daredevil" series on Netflix and major motion pictures like "American Sniper," "The Gambler" and more exciting feature films to be announced soon.
SCANable works with the most prestigious post-production and visual effects studios across the globe providing on-location 3D scanning solutions. These innovative companies have relied upon SCANable to provide LiDAR and 3D imaging solutions for visual effects in advertising, entertainment and film. For over a decade, SCANable's technical experts have been providing full body scanning of actors, vehicles, props, environments, stadium scans, and intricate set scans. With locations in Los Angeles and Houston, their expertise allows them to offer clients a unique, one-stop solution for all of their scanning and modeling needs.
For more information, visit http://www.SCANable.com.