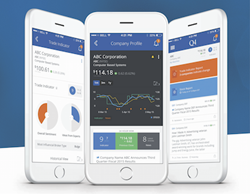 "The app has been designed to quickly integrate with the daily workflow of IR and corporate finance professionals and includes intuitive UI which easily keeps users up-todate on all the movements of the stocks they are interested." Said Darrell Heaps, CEO
Chicago, IL (PRWEB) June 15, 2015
Q4 Web Systems (Q4), a leader in enterprise cloud applications for investor relations, today announced 'Q4 Touch', a free finance mobile app created specifically for investor relations and corporate finance professionals to easily monitor news, quotes and intelligence about their company's stock and their peers. The announcement was made today at the National Investor Relations Institute's (NIRI) national conference in Chicago, IL.
Corporate finance and investor relations professionals need to constantly stay on top of the daily news, trends and market movements of their stock and their peers. Some desktop applications are useful but lack effective and easy to use mobile options. Q4 Touch has been created from the ground up to provide corporate users real-time news and market moving data on their company stock and it's peers, in an easy to use and beautifully designed mobile experience.
"The app has been designed to quickly integrate with the daily workflow of IR and corporate finance professionals and includes intuitive UI which easily keeps users up-to-date on all the movements of the stocks they are interested." Said Darrell Heaps, CEO of Q4 "the free version of the app provides a wide array of functionality, and when combined with our premium data products, such as predictive analytics, delivers daily predictive insights simply not available through on any other platform."
Q4 Touch provides a more comparative, alert-driven approach than other finance apps available in the market. This approach automatically notifies users of a change in the market and provides the tools to instantly understand the context of the change and the impact on their company, peer or industry.
Key Product Features:
● Customizable Watchlist with interactive "Pin" feature to quickly compare stocks on various data points
● Real-time news and press releases delivered in a personalized news and activity feed
● Intraday stock reports with change summaries provided on demand
● Interactive and comparative stock charting with indices and peer comparisons
● Predictive "Trade Indicator" premium data provides deep analytics on sell-side trading sentiment
More details on features available on the Q4 website: http://q4websystems.com/products/mobile/q4-touch/default.aspx
Q4 Touch is free and available today for both iOS and Android devices.
Download it today:
Apple App Store: https://itunes.apple.com/us/app/q4-touch/id944844669?mt=8
Google Play: https://play.google.com/store/apps/details?id=com.q4websystems.Q4App&hl=en
About Q4 Web Systems
Q4 Web Systems (Q4) is a SaaS platform that provides communication and intelligence solutions to investor relations officers and the c-­suite of public companies. Hundreds of global companies and brands such as Nike, Salesforce, FedEx and McDonald's use Q4's website, mobile, webcasting and intelligence platform to manage, report and understand their engagement with the capital markets. http://www.q4websystems.com
Media Inquiries
Rana Abdel Fattah
Marketing Coordinator
ranaf(at)q4websystems(dot)com
Telephone: 416-626-7829 ext. 250