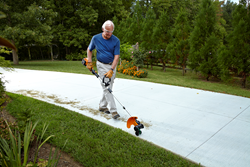 Charlotte, N.C. (PRWEB) June 16, 2015
This Father's Day, celebrate dad by giving him the power he deserves with the new WORX® 56V MaxLithium Trimmer/Edger. Save the cologne and ties for the holidays, and let dad cut loose in the yard with this powerful trimmer/edger.
WORX, a major manufacturer of green outdoor power equipment, has a new 56V Power Share program this season. The 56V MaxLithium Trimmer/Edger is one of the new high voltage performers that operates like a gas trimmer, plus it's up to 20 percent lighter than most gas-powered models.
This trimmer/edger has innovative features dads will love. It's not like the trimmers of old, where you bumped the power head to get line to advance. No, this 56V yard machine features Command Feed™ that advances line when you need it with the press of a button right above the trigger. Command Feed lets the user electronically control when to feed more line. It conserves line and eliminates downtime when edging.
The biggest culprits of trimmer line depletion and shredding are contact with hard surfaces such as concrete and asphalt, not to mention fences. This trimmer uses a thicker professional line (.080 in. diameter), 1" x 20' in length that is more durable than conventional line. WORX incorporates a quick-change, easy-to-load, pre-wound spool, so there's no fumbling with line changes.
The trimmer/edger also features a new method to switch from trimming to edging. When the large pushbutton, located high on the shaft above the trigger is pressed, it releases the power head assembly so it can rotate into place for in-line wheeled edging. This new twist-and-edge feature operates smoothly for a seamless transition between functions.
In edging mode, two wheels help guide the trimmer along the edge for professional looking results. When not in use, the wheels can be stored on the trimmer's shaft or removed entirely. The 56V trimmer weighs 8.8 lbs. and has a cutting swath of 13 in.
The 56V trimmer/edger also features the WORX exclusive pivoting head, which allows the shaft to pivot from 0 to 90°. This enables the user to reach under decks, picnic benches, dense bushes and trees, hard-to-reach areas and other obstacles. The trimmer's cutting angle is adjustable to match the terrain for trimming berms and drainage ditches without scalping the turf.
The lightweight, ergonomically-designed trimmer is balanced to minimize fatigue. Its adjustable, D-shaped handle is designed for maximum comfort and control, and can be adjusted to fit the operator's height and posture. The trimmer reaches a full charge in 90 minutes.
Besides the trimmer/edger, the WORX 56V Power Share program includes two lawnmowers, a 24 in. hedge trimmer, and coming this fall, a TURBINE blower and a 16 in. chain saw. Each yard tool in the Power Share program shares the 56V MaxLithium battery pack.
The WORX 56V Trimmer/Edger (WG191, $199.99) includes one, 56V MaxLithium battery pack, a 90-minute charger, edging support wheels, plus two spools of line. The trimmer is covered by the WORX 3-year warranty. It's available at http://www.worx.com and Amazon.
To reach out to WORX social media links visit: Facebook: https://www.facebook.com/worxus?ref=hl; Twitter: https://twitter.com/WORXTools
# # #