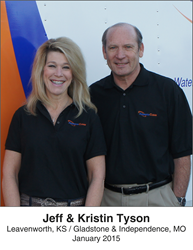 HUNTERSVILLE, N.C. (PRWEB) June 18, 2015
KANSAS CITY, M.O. | Jeff Tyson got his AdvantaClean franchise up and running virtually just in time to help more than a dozen area families and property owners return to their homes and businesses.
Tyson, owner of AdvantaClean of The Heart of America with his wife, Kristin, opened for business on February 9, 2015, little knowing that he and his crew would be in for a real test of their environmental services business a few short months later.
Kansas City and the surrounding towns have seen more rainfall in the past few weeks than they usually have in an entire season—3.70 inches as of June 8th after 10.25 inches in May, according to local weather sources—causing major flooding in the area. For many residents, flood waters rose so high that they had to evacuate their vehicles, homes and businesses completely.
Mitigating flood water is what Tyson and his crew have been trained to handle, so the franchise's equipment and manpower were at the ready to respond to the most pressing flood emergencies across Kansas and Missouri.
"Our crews were up for 37 hours straight" at one point, Tyson said to KSHB News 41's Josh Helmuth during recent coverage of the flooding.
With the help of AdvantaClean's home-office Call and Support Center, which fields customer calls around the clock for all of its franchisees, Tyson and his crew were able to respond to customers' needs, pre-prioritized by emergency level, restoring many more homes and business properties to livable and workable condition.
About AdvantaClean of The Heart of America
Locally owned and operated by Jeff and Kristin Tyson,AdvantaClean of The Heart of America provides Light Environmental Services™ – mold inspection, testing and removal; water damage restoration; air duct and dryer vent cleaning – to the following areas in Kansas and Missouri: Basehor, Bonner Springs, Fort Leavenworth, Kansas City, Lansing, Leavenworth , Mission and Tonganoxie; Blue Springs, Farley, Independence, Kansas City, Liberty, Platte City, Riverside and Smithville.
The Tysons can be available for interviews and expert appearances through:
GinaCuza
Marketing Content Manager
AdvantaClean Systems Inc.
gina.cuza@advantaclean.com
http://www.advantaclean.com
Phone: 704.766.2437 ext.1124 |877.800.2382 | Fax: 877.455.5546
About AdvantaClean Systems, Inc.
Founded in 1994 as a contracting business handling cleanup and repairs in southern Florida, AdvantaClean, now headquartered in Huntersville, N.C., is now the leading national franchised provider of Light Environmental Services ™ in the country. The company currently ranks 85th on Entrepreneur Magazine's fastest-growing-franchises list, and is among Franchise Business Review's Top 50 in franchisee-satisfaction ratings. In 2013-14, USA Today and the International Franchise Association recognized AdvantaClean as a Top Franchise for Military Veterans. Today, more than 200 AdvantaClean franchised territories operate in 20 states, serving 100+ commercial and government clients, and thousands of residential customers nationwide.