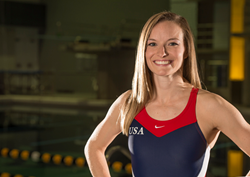 I'm excited for the opportunity to represent the USA, Iowa, and Grinnell with pride.
Grinnell, Iowa (PRWEB) June 17, 2015
The U.S. Olympic Committee has announced Grinnell, Iowa-native – and three-time University of Iowa diving record holder – Deidre Freeman will compete in the Pan American Games, July 10-13, 2015, in Toronto. With this announcement, Freeman becomes the first of many celebrated Iowa divers to compete in the prominent event.
The third-largest multi-sport competition in the world, trailing only the Olympic Games and Asian Games, the Pan American Games pit the world's most elite athletes against one another in one of the most prestigious pre-Olympic events. Gold medals at the Pan Americans frequently result in gold medals on the world's biggest stage – the Olympic Games.
Freeman will compete in two events: the 3-meter individual competition on July 12, and in 3-meter synchronized competition alongside former University of Texas diver Maren Taylor on July 13.
"I can't wait to compete on such an important international stage in two events at the Pan American Games," said Freeman. "I've worked so hard to get to this point in my training and everything seems to be coming together at the right time. I'm excited for the opportunity to represent the USA, Iowa, and Grinnell with pride."
Both members of USA Diving's AT&T Olympic High-Performance Squad – a 14-person team made up of the United States' top divers – Freeman and Taylor have already notched two medal performances in international competition. The duo has also medaled in three U.S. National competitions, including one gold and two silvers. Competing with former partner Jessica Parratto, Freeman also holds two additional silver medals in U.S. National competition.
About Deidre
A member of USA Diving's 14-person AT&T Olympic High-Performance Squad, Deidre Freeman has already secured her place in the 2016 U.S. Olympic Diving Trials in Indianapolis, Indiana. The daughter of 1980 Olympic Games hopefuls Will and Evelyn Freeman, Deidre was born in Grinnell, Iowa, in 1988. Living her whole life in Iowa, Deidre was a high school diving standout and attended the University of Iowa on a diving scholarship. During her time at the University, she broke, and still holds, three diving records: 1-meter, 3-meter individual and 3-meter synchronized. Deidre currently lives and trains in Iowa City, Iowa. Learn more about Deidre by visiting http://www.deidrefreeman.com. Stay up-to-date with Deidre and her Olympic destiny on Facebook, Twitter and Instagram.