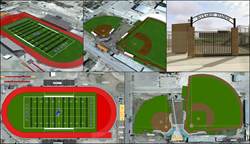 This project is a game-changer for the community of Freer...
Austin, TX (PRWEB) June 17, 2015
Hellas Construction broke ground on a Design/Build project at Freer, Texas for the development of football, baseball, and softball stadiums during the month of June after Freer ISD School Board approved the $5.73 million dollar project with a unanimous 7-0 vote on June 3rd.
"This project is a game-changer for the community of Freer," said Freer ISD's Superintendent of Schools Steve VanMatre. "For many years, the athletic facilities were substandard and did not meet the needs of athletes or community. This changes that."
The first phase of the project comprises the conversion of Buckaroo Stadium's natural grass field to Hellas' Matrix® Turf with REALFILL™ infill, a highly demanded system that provides enhanced performance and greater playability for athletes. It also includes a new D-zone area with epiQ TRACKS® V300 running track surface that will offer the Buckaroos the privilege to hold track and field events. New bleachers will be added to home and visitor's sides, as well as home section seats, stadium lighting, concession stands, restroom buildings, and a 62' press box. Also included in the project are arched entryways, two ticket booths, fencing, a recycled concrete parking lot, new goal posts, and a flagpole.
The second phase of the project will convert the Buckaroos' practice football field to a new baseball and softball stadium. The current natural grass field will be replaced with a Matrix® Baseball/Softball Turf System with clay mounds and batting circles. New bullpens will be added featuring Hellas' Matrix® Batting Cage Turf, a durable system that resembles mowed grass and is optimized for baseball and softball practice. Hellas will also provide warning tracks, bleachers, masonry dugouts with storage, fencing, netting systems, backstops, a restroom/concession building, decorative arched entryways, walkways with concrete flatwork, ticket booths, and a press box for each of the fields.
"There's certainly been a strong positive response from the Freer community with this project," continued Superintendent Vanmatre. "Just with construction starting, we're already seeing more kids in the weight room, more kids coming up for evening workouts. They have a little more jump in their steps. The [Freer ISD] Booster Club had a meeting crowded wall-to-wall people. We cannot be more excited."
The first phase of the project is to be finalized before October and in time for the Buckaroos' 2015-16 football season. The second phase is expected to be completed in early 2016.
###
About Hellas Construction
Headquartered in Austin, Texas, Hellas Construction is a nationwide contractor with a strong reputation for delivering premium-quality sports construction projects across the United States. Hellas has the ability to custom-manufacture and install its own of synthetic surfaces for field sports, running tracks, and tennis courts, by controlling all related operations. For more information, visit hellasconstruction.com and matrix-turf.com or follow them on Twitter and Facebook.
About Freer ISD
Freer Independent School District is a public school district based in the city of Freer, Texas. A part of Duval County, Freer has a population of 3,241. The Buckaroo Stadium is home to the Freer High School Buckaroos. Freer ISD is recognized for providing a quality educational program that exceedingly meets the needs and interests of all students, and assures that all students acquire the necessary skills to become highly productive members and leaders of society. For more information, visit http://www.freerisd.org