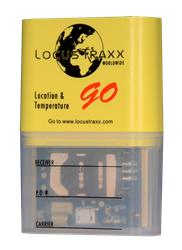 Jupiter, FL (PRWEB) June 18, 2015
Locus Traxx Worldwide has done it again. The SmartTraxx™ GO LUX won the United Fresh Produce Association's 2015 New Product of the Year Award. The GO LUX participated in the New Product Safety Solution category among other industry innovators and was showcased as one of 45 finalists for the 2015 Product of the Year Awards.
John Toner, United Fresh Vice President of Convention & Industry Collaboration, announced the winner: "This year's new product competition truly showed innovative products that will continue to help us delight our consumers. Congratulations to LocusTraxx for their win on a solution that maintains the cold chain to deliver a safe, pleasurable product."
"What a way to close out this year's United Fresh Conference," shared Locus Traxx CEO David Benjamin. "We couldn't be more thrilled about being selected as United's 2015 New Product Safety Solution Winner. It's an honor to be recognized by our industry peers as the best, this achievement proves our dedication to cold chain advancements and our passion to deliver the very best technology and service to our customers." Benjamin added, "The market acceptance of the GO product line has been fantastic with double digit month-over-month growth for the last year. We are saving shipments every day with real-time monitoring and we are delighted to accept this recognition."
The SmartTraxx™ GO LUX provides you real-time global monitoring of location, temperature, and security of your products while in transit, enabling you to remain in control of your supply chain for real-time business decisions. Quick and simple installation, combined with comprehensive business intelligence reporting and responsible recyclable platforms, makes the GO LUX the industry champion. The GO LUX was also awarded the prestigious 2015 IoT Evolution Product of the Year Award by IoT Evolution magazine, the leading publication covering the Internet of Things (IoT), earlier this year.
About Locus Traxx Worldwide
Locus Traxx Worldwide is the leader in real-time temperature, location, and security monitoring for perishable and high value shipments. Our core products and services are focused on improving on-time deliveries, food safety, shelf life and security through advanced IoT (Internet of Things) technology and highly innovative services. The result is a revolutionary way to maintain the safety and quality of products while in transit. Locus Traxx demonstrated a strong commitment to sustainable operations and social responsibility when CEO David Benjamin launched the company's GO Green program. For more information about Locus Traxx Worldwide, visit http://www.locustraxx.com and follow Locus Traxx on Facebook, Twitter, and YouTube.
About United Fresh Produce Association
Founded in 1904, the United Fresh Produce Association brings together companies across every segment of the fresh produce supply chain, including growers, shippers, fresh-cut processors, wholesalers, distributors, retailers, foodservice operators, industry suppliers and allied associations. We empower industry leaders to shape sound government policy. We deliver the resources and expertise companies need to succeed in managing complex business and technical issues. We provide the training and development individuals need to advance their careers in produce. Through these endeavors, we unite our industry with a common purpose – to build long-term value for our members and grow produce consumption.