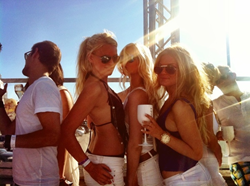 "Mania Events' status as the host of the official New York Swedish Midsummer party has been cemented," said Attorney Ben Natter.
New York, NY (PRWEB) June 19, 2015
The 12th annual New York Swedish Midsummer Party will be held this Friday in New York City. Sweden based Mania Events, together with a well-known group of event organizers, have been putting on their famous Swedish Midsummer Party event for the past 12 years.
The event celebrates a Swedish holiday and festival during which Swedes begin their annual summer vacation.
"We are proud to announce that we have reached an agreement to be the official New York Swedish Midsummer Party for many years to come," said Martin Tajkhan, CEO of Mania Events.
Over the past several weeks there was great concern within the Swedish community surrounding whether or not Mania Events would be able to secure its place as the official host of the now famous Swedish Midsummer Party.
Ben Natter, an attorney in New York, assisted Mania Events.
"Mania Events status as the official New York Swedish Midsummer party is secure," said Mr. Natter.
"The party will go on and our client and 1000 Swedes are looking forward to it.""
The event looks like a great time and begins at 10pm on Friday, June 19.