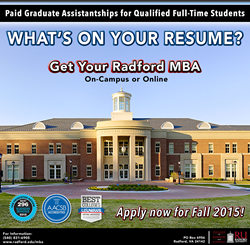 Having a strong foundation in analytics with business implications has prepared me for a career as a quantitative analyst. -Ian Burton (MBA Graduate)
Radford, Virginia (PRWEB) June 23, 2015
The online MBA program begins with the Fall 2015 semester with two classes: accounting and innovation.
The Radford University's MBA program provides a broad-based, cross-functional education in core business areas including targeted electives in analytics and innovation designed to prepare students for advanced leadership roles in both private and public sectors of the global economy.
Graduate business courses provide experiential learning opportunities that engage students in the educational process, thereby providing a bridge between theory and practice.
Layden Williams, who earned his MBA at Radford University in 2012, said the program, "not only expanded my business acumen but also gave me the confidence, educational background and hands-on experience to become an instant asset at any company. The faculty and community here are genuinely interested in the individual success of every student."
Another Radford MBA graduate, Ian Burton, said, "Radford University's MBA program gave me the flexibility to tailor my studies to focus on analytics-related course. Having a strong foundation in analytics with business implications has prepared me for a career as a quantitative analyst."
Radford University's MBA program is the only such program in Southwest Virginia accredited by the Association to Advance Collegiate Schools of Business (AACSB).
For students who wish to conduct their MBA studies in a traditional classroom setting, Radford University's COBE offers on-campus evening classes and a schedule, which would allow a student to complete the program in as little as 12 months.
A part-time student can complete the program in only two years and will develop relevant skills and knowledge to benefit a career during coursework, not just after receiving the degree.
Individuals interested in the Radford University MBA program do not need a bachelor's degree in business. However, foundation knowledge in accounting, economics, finance and statistics is required.
To satisfy the requirements, Radford University's COBE offers self-paced, online courses that address those foundation areas, and all are taught by Radford University faculty. The cost of the courses is $250 for all areas.
To learn more about Radford University's MBA program, contact the College of Business and Economics at (540) 860-4949.