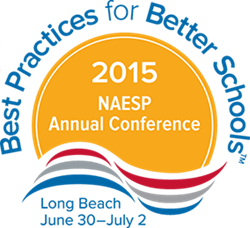 Reston, Virginia (PRWEB) June 18, 2015
Elementary and middle-level principals from around the nation will attend the National Association of Elementary School Principals' (NAESP) Best Practices for Better Schools™ National Conference and Expo of the Year, June 30 - July 2 in Long Beach, California. The conference, which is the largest national meeting focused on K-8 principals, will empower school leaders to better guide their schools, teachers, and students to success. Highlights of this year's conference will include:
Insight from Education Experts. The best and brightest minds in education leadership—including Todd Whitaker, Annette Breaux, and Robert Marzano—will be sharing their extensive knowledge on pressing education topics, such as school culture, preK-3 leadership, and the student achievement gap. In addition, keynote presentations will be delivered by inspirational artist Erik Wahl and curriculum designer Heidi Hayes Jacobs. (Visit the conference website for a full list of sessions.)
National Teacher of the Year. As the 2015 National Teacher of the Year, Shanna Peeples is shaping the national conversation about working with students in poverty and those who have already faced extreme challenges in their young lives. Peeples will share her wisdom at the Conference General Session on July 2, to be held in conjunction with NAESP's special "Day of Learning" for teachers.
Innovations Lab. The #NAESP15 Innovations Lab, taking place in the Lobby of the Long Beach Convention Center, is the place for educators to develop their own learning networks and keep up with the latest education tech tools.
NAESP Community Service Day. Principals will be volunteering their time to work on service projects for two local elementary schools: Principals will build an inclusive playground at James A. Garfield Elementary in Long Beach, while a beautification project will take place at Charles W. Bursch Elementary in Compton. (Mon., June 29, 9, 9:00 a.m. to 2:00 p.m. at: James A. Garfield Elementary School, 2240 Baltic Ave, Long Beach, CA 90810, and Charles W. Bursch Elementary School, 2505 W. 156th Street, Compton, CA 90220)
NAESP 5K Fun Run/Walk. Principals will join their colleagues and industry partners to "flex their muscles" with a 5K run/walk. The 5K features a journey along the sparkling water's edge of Shoreline Drive in Long Beach, and will start at 7 a.m. on Tues., June 30.
The NAESP 2015 Conference & Expo also features:

Nearly 100 concurrent sessions on issues of critical importance to strengthening elementary and middle-level education;
An Expo Hall, which includes 75 top suppliers of innovative services and products for schools.
For more information about NAESP's annual conference, visit http://www.naesp-conference.org. Contact Kaylen Tucker (ktucker(at)naesp(dot)org) for press credentials and to arrange interviews.
###
Principals are the primary catalysts for creating lasting foundations for learning. Since 1921, the National Association of Elementary School Principals (NAESP) has been the leading advocate for elementary and middle-level principals in the United States and worldwide. NAESP advances the profession by developing policy, advancing advocacy, and providing professional development and resources for instructional leadership, including specialized support and mentoring for early career principals. Key focus areas include pre-K-3 education, school safety, technology and digital learning, and effective educator evaluation. For more information about NAESP, please visit http://www.naesp.org. NAESP administers the National Principals Resource Center, the American Student Council Association, and the President's Education Awards & American Citizenship Awards Programs.