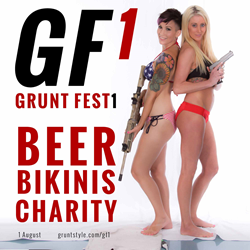 THIS is how you support our Nation's Veterans!
Carol Stream, IL (PRWEB) June 24, 2015
Gruntstyle.com is hosting the first ever Grunt Fest in order to benefit veterans. The event is being held at Blarney Island in Antioch, IL, on Aug. 1 and promises music, unlimited beer, a bikini contest, and patriotic camaraderie.
Grunt Fest 1 is for anyone that loves America. The event begins at 2 p.m. and lasts until 8 p.m. (or later if you are feeling frisky). Tickets to the event provide a boat ride to and from the island; unlimited beer for 4 hours; and you'll get to judge the GF1 bikini contest. Any female can enter the contest and the winner will walk away with $1,000 in cash and prizes, as well as a 6-month modeling contract with GruntStyle.com.
Proceeds from ticket sales will also provide much needed support for veterans in distress through Dysfunctional Veteran. The goal of Grunt Fest is to raise funds for the many veterans struggling with PTSD through a fun and patriotic environment. What better way to relieve stress than at a party while judging a bikini contest?
GruntStyle.com is a veteran owned and operated apparel company located in Carol Stream, IL. The company consists of 86 employees, of which 75% of them are military veterans and 100% of them are American patriots. Grunt Style's ethos is "Pride in self, in our military and in our county." As a way to showcase military pride, Grunt Fest 1 was created as a way to give back to the military community. This won't be a normal fundraiser. This will be a blast. Blarney Island is known for it's location (only accessible by boat) and party atmosphere. Tickets are limited for the event.
To learn more or get tickets, go to http://www.gruntstyle.com/gf1
Learn more about the charity at http://www.dysfunctionalveterans.com